Two Atlanta area communities, Belmont Village Buckhead and Belmont Village Johns Creek, hosted Bike to End Alzheimer's to symbolize the challenging journey those with Alzheimer's disease and their caregivers face every day. The all-day bike relay held on June 21 was part of a nationwide initiative across the 24 Belmont Village communities in the U.S.
The 12-hour indoor bike relay was dedicated to raising funds and awareness for the Alzheimer's Association. For a $10 donation, participants signed up to take turns riding a stationary bike for 15 minutes, many signing up for multiple riding times. The goal was to have a person on a bike at all times. Many participants signed up for multiple riding times. One hundred percent of the proceeds benefitted the nationwide Alzheimer's Association Walk to End Alzheimer's.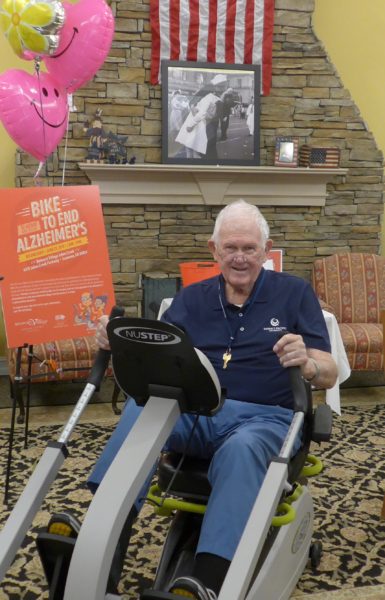 "As a senior living and memory care provider, we see the daily toll Alzheimer's disease takes on our residents, their families and caregivers," said Lorena Grimes, public relations manager of Belmont Village Senior Living. "We've led the way in developing research-based enrichment programs so that our residents can have meaningful, purposeful days."
Alzheimer's affects more than five million Americans today, a number that is expected to jump to 16 million by 2050, unless a cure is discovered.
This event was a nationwide kick off to help Belmont Village Senior Living national team reach its company-wide goal of raising $100,000 across its 24 communities for the Alzheimer's Association's Walk to End Alzheimer's. There are 19 walks organized around Georgia starting on Sept. 16 in Atlanta and LaGrange.
The two Belmont Village Atlanta communities, Belmont Village Johns Creek and Belmont Village Buckhead raised a combined $1,800. That money will go towards the walks scheduled in Gwinnett County and Greater Atlanta. Company-wide, Belmont Village communities raised more than $21,000.
"We raise awareness and funds for the Alzheimer's Association in honor and remembrance of our residents and our own family members who have fought this fight, and in hopes that we can help lead the way to a cure," said Grimes.
Community members can participate in the 2017 Walk to End Alzheimer's by donating or joining the local Walk To End Alzheimer's teams.
Click here to view the article by the Atlanta Journal Constitution.