Spend time in any Belmont Village community and you'll meet residents with remarkable stories to tell.  Historical, life-changing experiences, from the Great Depression to WWII to Neil Armstrong's first steps on the moon,shared from the personal viewpoints of the people who lived through them and were shaped by them. It's hard to pick just one unique story from the hundreds of transformative events experienced over their lifetimes. But travel just west of busy, downtown Chicago to Carol Stream, Illinois and you'll find one resident in particular who stands out: Merle Phillips, born April 2, 1907.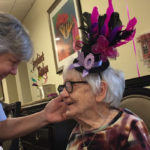 Merle, a published author who just celebrated her 110th birthday, doesn't seem to be slowing down any time soon. She leads the pack of the 43 centenarians surpassing the 100-year mark across all Belmont Village locations. In over a hundred years of living, good days and bad days go hand in hand. She met her husband, Leonard, as a graduate student at the University of Iowa. Within two weeks of their first date, they were engaged and spent the first few years of their marriage hitchhiking around the United States. Leonard died after 31 years together, eventually losing his battle with leukemia in 1968. But Merle persisted, surviving a major auto accident a few years after her husband's death and continuing to work beyond her official retirement in 1972, providing child and elder care into her 90s.
At 72, she began writing down her stories. Some involved life with her husband. Others included snippets about her work experiences, relationships and life lessons learned over the years. She is well into her twelfth book and has plans to self-publish it, just like the others. Most mornings she spends in her oversized armchair, a pen and paper up on her table, writing down those good and bad days, an effort made more challenging for many years by cataracts and poor vision. After she turned 109, Merle decided to have corrective surgery. Now, she can write freely and read just fine without the aid of the reading machine for low vision that she had been required to use. When inspiration strikes, she writes where and when she wants.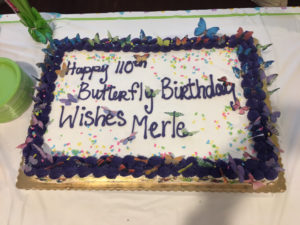 Merle continues to enjoy life, emphasizing the importance of a positive outlook and a focus on others. Last Halloween, she dressed as a fairy godmother, handing out good wishes around the Belmont Village community, including a few for the Cubs. This year for her birthday Merle wants to continue that spread of goodwill.  Instead of gifts for herself, Merle has asked for donations to the Spectrios Institute of Low Vision in Chicago.
Spectrios works to empower children and adults with vision loss, regardless of income, to optimize their visual capabilities and independence through the use of perspective tools, technology, rehabilitative training and inspiration. Belmont Village has helped Merle create a GoFundMe page to raise money for Spectrios and we're helping to launch her campaign.  We invite you to join Merle as she continuous to celebrate her long life and newly restored vision by fulfilling the wishes of others.
Click here to visit Merle's GoFundMe page.