Safe. Secure. Supported.
Find a Belmont Village Community
A comprehensive approach to health and wellness
Maintaining the health and safety of our residents is always our top priority. COVID-19 has underscored the depth of that commitment. At Belmont Village, we have implemented a comprehensive program of protocols based on the most current understanding of the 2019 coronavirus as determined by science, medical expertise, and Centers for Disease Control and Prevention (CDC) guidelines. At the same time, we are equally passionate about supporting our residents' mental and emotional health during this challenging time.
Covid-19 Vaccine Update: A Message from CEO & Founder Patricia Will
After nearly a year in the throes of the pandemic, we are finally approaching the bright light at end of the tunnel. Thanks to the wonders of modern science and the remarkable execution of best practices by our teams, Belmont Village can now lay claim to the gift of immunity. As of March 4, 2021, nearly 100% of Belmont Village residents have been vaccinated alongside more than 80% of our staff. These numbers will only rise as we complete our third round of vaccine clinics.
At Belmont Village and in the fight against COVID-19, this is a game changer. While we will not throw caution to the wind, immunity affords us the ability to refocus on what we are able to do as opposed to what we have to take-away. This means the world to our residents, who now, fully vaccinated, will be able to do more in communities that have high rates of overall immunity. This is paramount for our staff, who can now come to work and serve our residents knowing that they are protected. This provides peace of mind for our families, who have spent countless months concerned about their loved ones during these turbulent and uncertain times.
With community immunity as our guidepost, we have begun to initiate change in the activities that contribute most to socialization and engagement: dining, activities, and visits. Our dining rooms are open, and we are now able to carefully increase capacity as a function of immunity. Our rich program of activities will resume at carefully calibrated occupancies. Family members who are also fully vaccinated will at long last be able to visit anywhere in the community without an advance appointment, allowing for long-overdue embraces between loved ones. For now, we will continue to wear masks, hand sanitize, and maintain a measure of distance between one another. This not only protects the few who are not fully vaccinated, but will also help to contain seasonal influenza.
While the COVID-19 pandemic is not over, we are joyous in the promise of 2021. In truth, we could have never gotten here without the resilience of our residents, the extraordinary support of our families, and the ongoing heroism of our team members.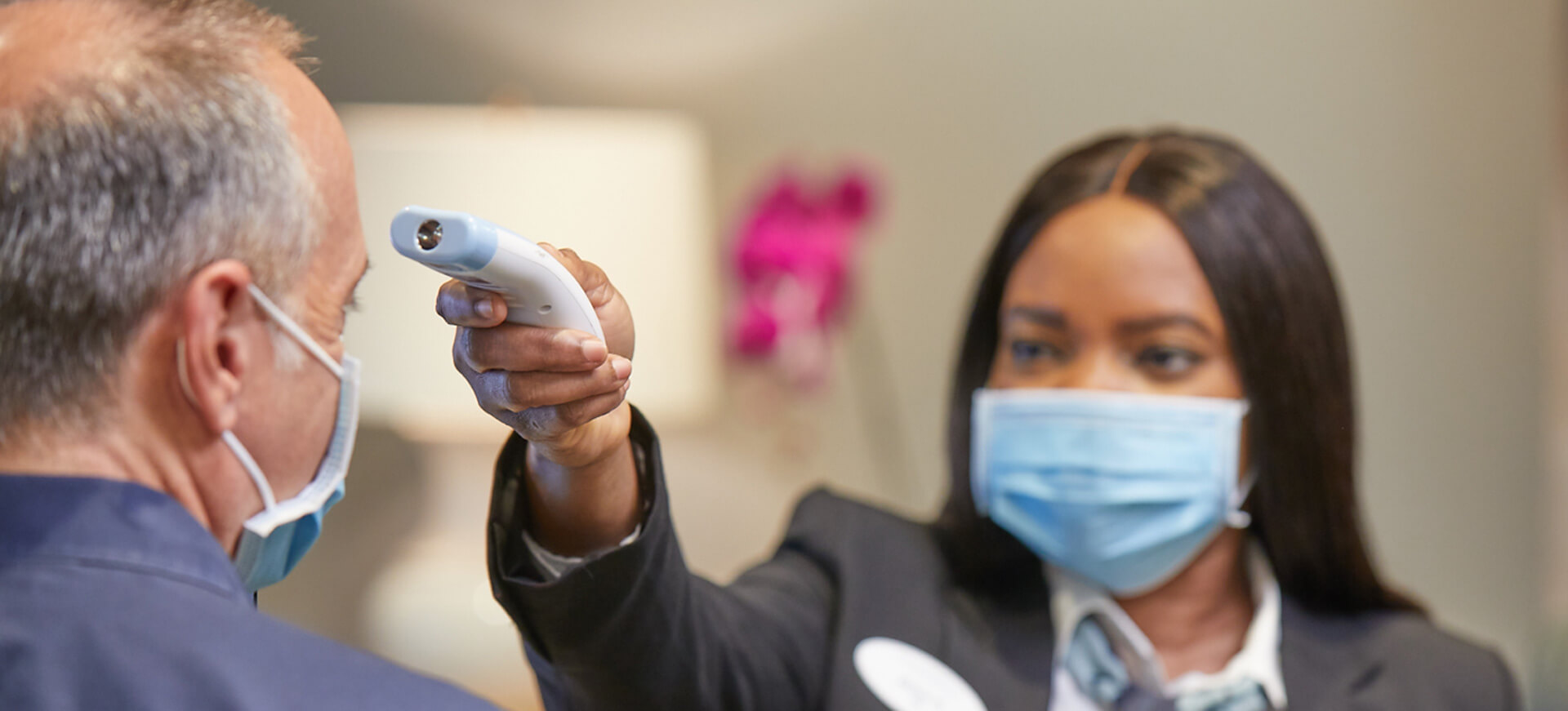 HEALTH SCREENING
Before entering any Belmont Village community, each visitor must have their temperature taken and log into Accushield, our automated digital access system, which asks a series of health questions recommended by the CDC. The system also verifies criminal background checks for all third-party vendors.
Safely Together
"I cannot BEGIN to tell you how happy I am that my parents are not only being well cared for but that they are happy! This time last year I told my family that there was NO WAY they would ever leave their lake home. Well, they have surprised me in that they did move, but also they couldn't be happier."
Marci P., Belmont Village Turtle Creek
PREVENTIVE MEASURES
Best practices for keeping our communities clean and safe
Reducing the risk of viral contact is fundamental to our approach. Our strategies include everything from the sanitation of frequently touched items to the removal of reusable condiments in the dining areas. Most importantly, we educate staff, residents, and families alike on what we're doing, how we're doing it, and why.
COMMUNICATION AT A DISTANCE
At many Belmont Village communities, we offer telemedicine for urgent care, allowing residents to safely access physicians and healthcare practitioners while reducing the risks associated with office or ER visits. We also conduct virtual events covering a variety of topics, including COVID-19.
CLEANING AND SANITATION
Hand hygiene stations are located throughout every community and are required to be used prior to entry. All disinfectants used are registered with the EPA as effective against COVID-19, with staff trained and reviewed on the cleaning procedures associated with each product. All outside equipment and deliveries must be sanitized prior to entering the community, along with work areas and paths of travel.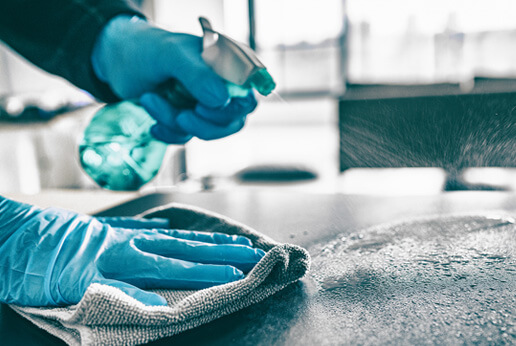 PERSONAL PROTECTIVE EQUIPMENT (PPE)
Belmont Village maintains an ample and secure supply of PPE including masks, gloves, and gowns, available to employees and residents as needed. We also provide training on proper use and, depending on the activity, require staff to change gloves and sanitize hands when interacting with each new resident.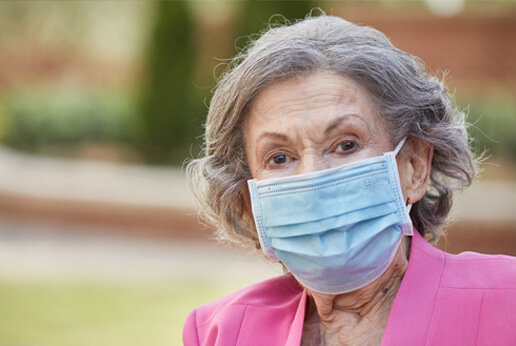 "Thank you for keeping us safe, fed, involved, and interactive in the community. Who knew COVID-19 would happen? But you have all risen to the occasion, helping us cope in many ways. Life has gone on as usual, with many changes, but it is still a great place to be."
Diane I., Belmont Village Albany
RESILIENCE
Maintaining the promise of life worth living.
When it comes to protecting our residents, our vigilance is balanced with a commitment to maintaining the social connections critical to mental health and holistic well-being. We know this situation is hard on everyone — residents, staff, and families. But together, we will prevail. Because a life worth living is a life worth fighting for.
EMOTIONAL AND MENTAL HEALTH
Through purposeful programming and whole brain fitness, we help residents find joy in their daily lives. It's our point of distinction. While the pandemic has affected our approach, it has not altered our commitment. As much as possible, we continue to organize activities while enforcing new restrictions.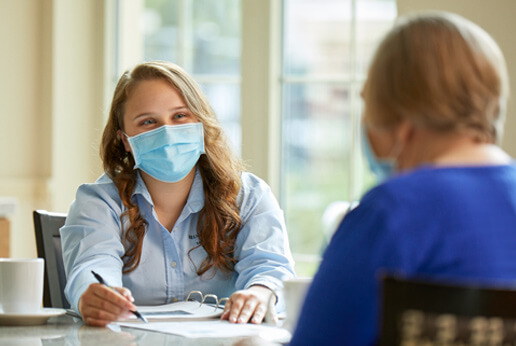 ONE-ON-ONE ENGAGEMENT
If a resident tests positive, Belmont Village activates enhanced isolation protocols for monitoring and care by a dedicated staff. In addition to clinical support, we are able to quickly pivot to maintain one-on-one stimulation while the resident is in isolation, treating not just the virus but the whole person.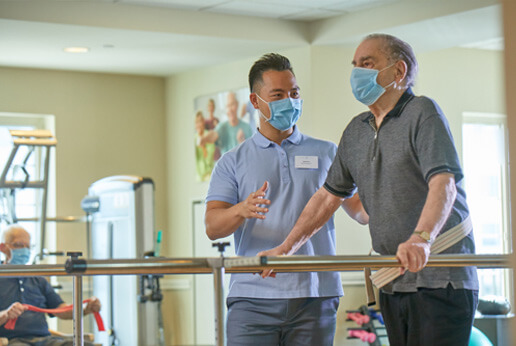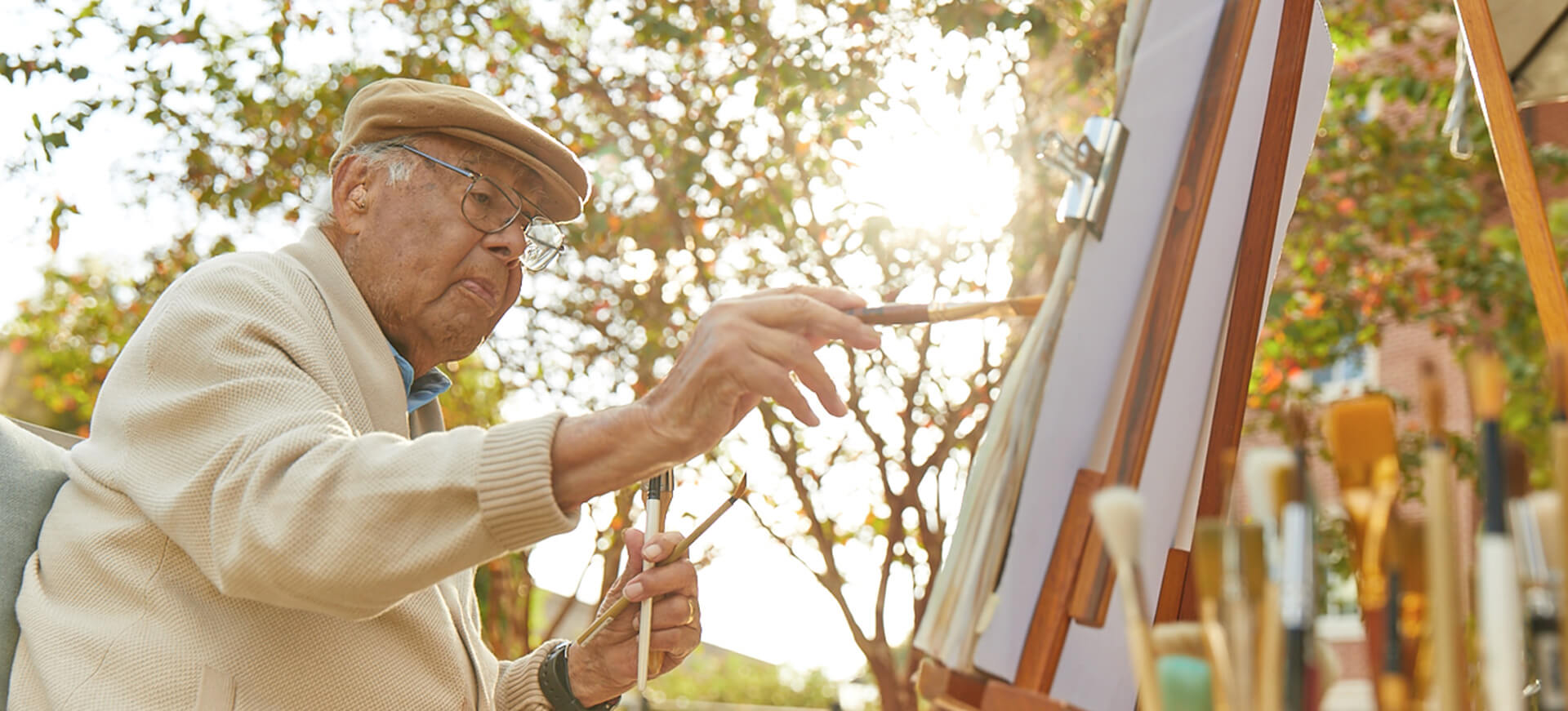 CONTINUITY OF PROGRAMMING
Regularly scheduled activities are an important part of the unique programming at Belmont Village. To maintain this crucial continuity, we have adapted group size and required residents to wear masks and stay six feet apart. Video conferences are also offered for visits and other social activities.
At Belmont Village, we are proud of the resilience displayed by our staff and our residents. We are optimistic that this crisis will soon be behind us. Until then, please reach out to a family advisor if you have any questions about community health and safety.