Targeting Alzheimer's Disease: Groundbreaking Research and Care Insights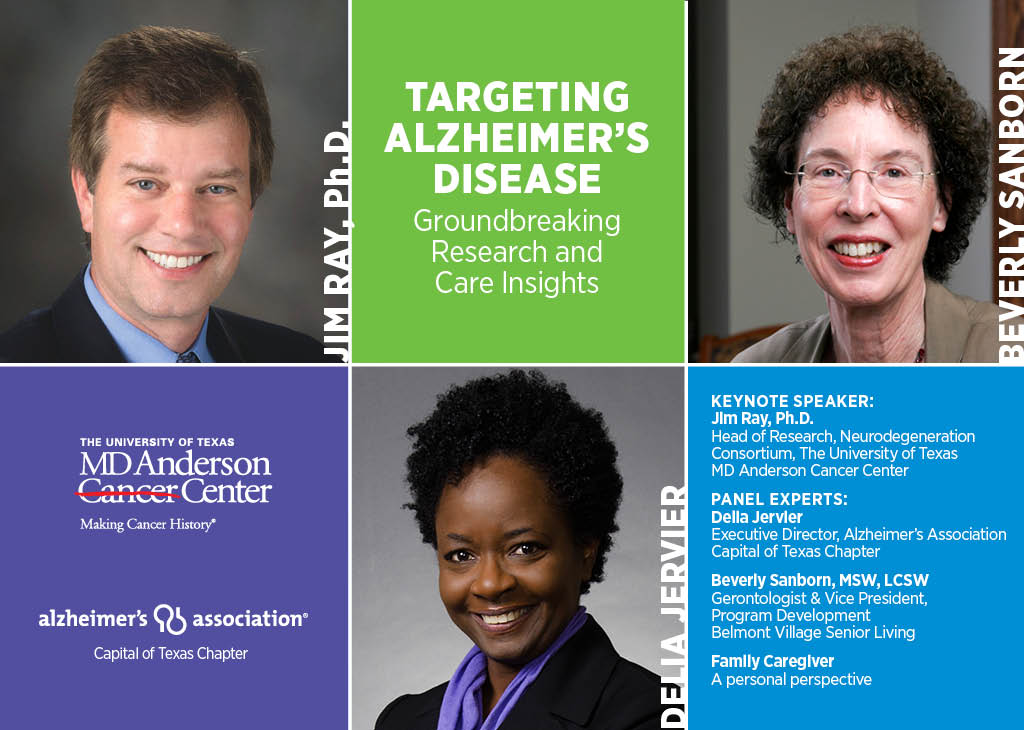 TWO TIMES & LOCATIONS, FOR YOUR CONVENIENCE
Thursday • February 21, 2019
11:30 AM – 1:30 PM
Belmont Village Lakeway
107 Bella Montagna Circle
Lakeway, TX 78734
RSVP to Erin Toepel at 512-937-0472
•••
Thursday, February 21, 2019
4:30 – 6:30 PM
Belmont Village West Lake Hills
4310 Bee Cave Road
West Lake Hills, TX 78746
RSVP to Peg Bulger at 512-347-1700.
Join us as Dr. Jim Ray discusses the scientific challenges of Alzheimer's disease, why existing drugs have failed and the strategies NDC scientists have developed to detect and slow or stop its progression. Afterwards, he'll join a specially selected panel of experts to answer questions. They'll provide insights into research, resources, how to improve quality of life, and the family journey.
Light hors d'oeuvres will be served.
Space is limited. RSVP required.
ASK THE EXPERTS:
Dr. Jim Ray, Neurodegeneration Consortium Director
Beverly Sanborn, MSW, LCSW
Belmont Village, Gerontologist
Delia Jervier, Executive Director,
Alzheimer's Association, Capital of Texas Chapter
Family Caregiver, A personal perspective
Neurodegeneration Consortium (NDC)
Led by Dr. Jim Ray, the NDC is dedicated to its mission to slow, stop, or reverse the progression of Alzheimer's disease. It's a transformational collaboration among Baylor College of Medicine, the Massachusetts Institute of Technology and The University of Texas MD Anderson Cancer Center. NDC scientists are discovering new targets for Alzheimer's disease and things are changing. After more than a decade with no new drugs and no existing drugs that can slow the disease, a new generation of drug candidates has
started late stage clinical trials.