EATING FOR SUCCESSFUL AGING
January is the month of "new", and for many of us, that could mean new diets or supplements. But should we get caught up in fad diets? Leading senior nutrition expert Dr. Ed Schneider will discuss nutrition tips for successful aging, including information on diets, organic foods, wine, and weight and longevity. Watch our informative webinar on "Eating for Successful Aging" with Dr. Schneider.
This webinar will help you learn about:
Why you should skip New Year's fad diets

Why it's time to throw away most of your supplements

Nutrition tips every senior should know

Details on the Mediterranean Diet and more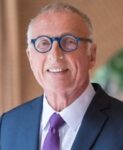 SPEAKER:
DR. ED SCHNEIDER,
Professor of Gerontology, Medicine and Biology at USC
Emeritus Dean of the Andrus Gerontology Center
Dr. Schneider is a leading expert on nutrition in gerontology. As Emeritus Dean of the Andrus Gerontology Center, he led the Center to become the top gerontology programs in the country. The Center remains at the top of its field as the only school in the nation to offer advanced degrees in nutrition and gerontology. Schneider is the chairperson of the Los Angeles Elder Abuse Forensic Center Advisory Committee and is involved in elder abuse litigation. His team is currently researching how to reduce drug use in older Americans.