Setting Realistic Expectations
When you begin to care for an older adult with dementia, make sure you take the time to set realistic expectations for what level of care you are able to provide someone else while still caring for your own physical, emotional and financial needs.
Resources like the Caregiver Bill of Rights serve as a reminder to help you manage complex feelings and ensure that you're not neglecting your own health as you care for your loved one. Many caregivers start out handling all of the care needs, but struggle with feelings of guilt, inadequacy or stress as the dementia progresses and needs change. Understand that it is not possible for one person to do it all; in fact, memory care communities have entire teams working to support residents.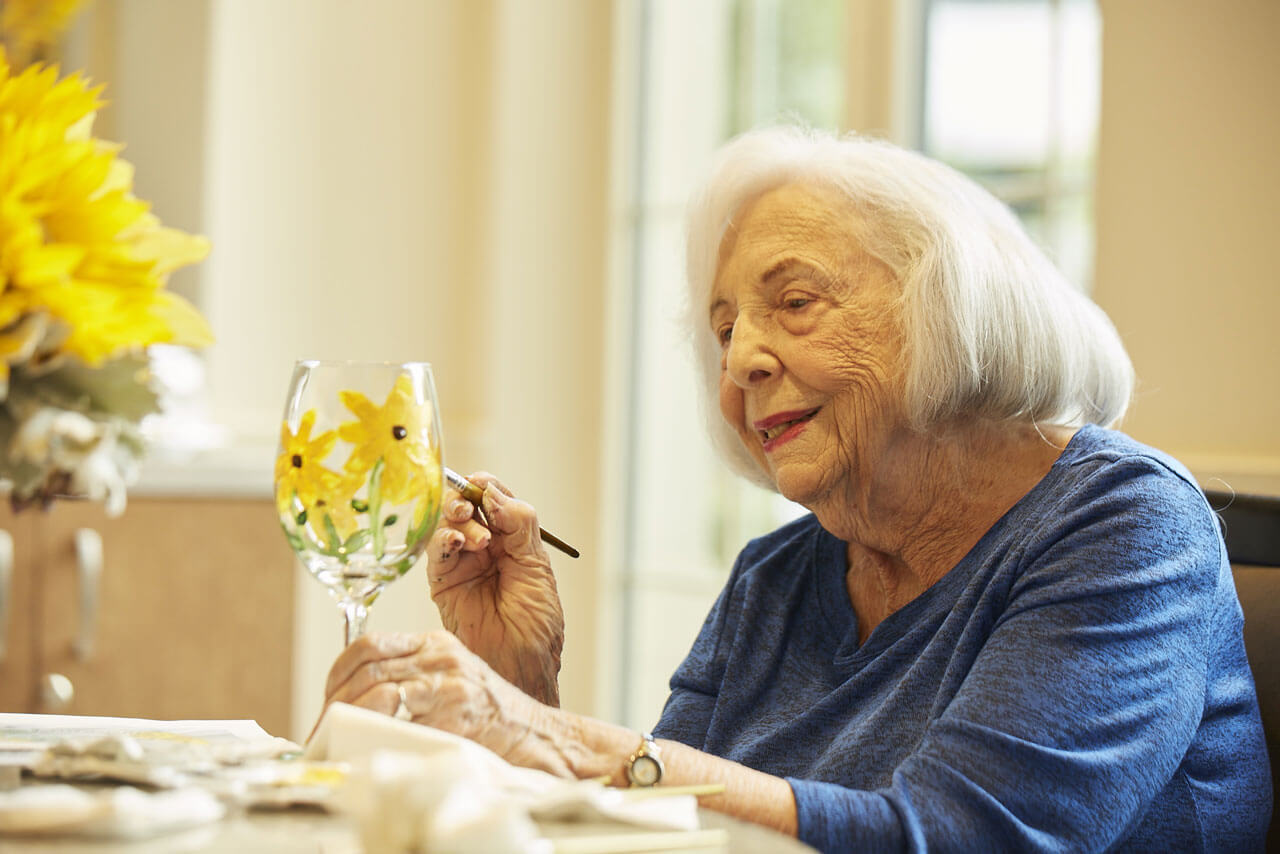 Coping Strategies Throughout the Dementia Care Continuum
Early
At this stage and early diagnosis, the person with dementia likely doesn't require much additional assistance while they are experiencing mild cognitive impairment; however, it can be a very emotionally challenging time for both the care partner and the person with dementia as both recognize and struggle to accept what is happening.
It's not too soon to join a support group to address what you and your loved one are experiencing now, so you have an established group in place to share your thoughts, fears, worries and complex feelings as the disease progresses. This will help you deal with your own emotions and better enable you to support your loved one and understand their feelings and available resources as well.
It's also a good idea to start to prepare for what to expect. Reading up on the early signs of dementia, along with typical progression paths, will help you understand how your loved one's abilities will change and the emotions they'll likely be navigating. In addition to research materials, there are a variety of webinars, blogs and podcasts that offer perspectives from medical experts, other family caregivers, and organizations like the Alzheimer's Association. Vascular dementia, frontotemporal dementia, lewy body dementia—whatever type of dementia your loved one has, there are ways you can help them—and yourself.
While your loved one is still in the initial stages and just starting to exhibit early symptoms, talk about decision-making in the future, and what decisions they'd like you to make for them. This can help to lessen feelings of stress and guilt on your part down the road. If you don't already have a routine set, you can plan one out to help make future care easier. Begin committing to regular self-care now so you will continue to prioritize it in the future.
Moderate
At this stage, the dementia affects all of daily life, which makes caregiving more demanding physically, mentally and financially. On the physical side, your loved one may be experiencing falls, wandering, confusion, poor judgment, and disorientation, all of which can make you worried about their safety and medical condition. At this stage, cognitive changes they may be experiencing include personality changes, mood swings, short-term memory loss, and other common symptoms of dementia. All of these changes can make caregiving that much more stressful.
It's important to remember to take breaks and care for yourself as well. Refer back often to the Caregiver Bill of Rights: You have the right to take care of yourself and to do things just for you. Explore short-term care or adult day care options to provide opportunities for socialization and activities—and give you a break to focus on work, errands, relaxing or anything you'd like.
Late
In late-stage dementia, your loved one will likely require extensive care and will almost certainly have moved to a community with healthcare providers specialized in caring for patients with Alzheimer's disease and other forms of dementia. You may also consider hospice at this time. As with each stage of dementia, you'll be experiencing complex emotions—grief, fear, stress—but those feelings may seem more overwhelming now.
Lean on support groups, family advisors, or counselors to help you navigate and express those feelings in a safe environment. Take the time to enjoy moments with your loved one now, and connect with family and friends. Do not be afraid to ask for help; those close to you will be looking to assist you in whatever ways they can. You may want to embrace spirituality, mindfulness or meditation to help you find peace and comfort at this time.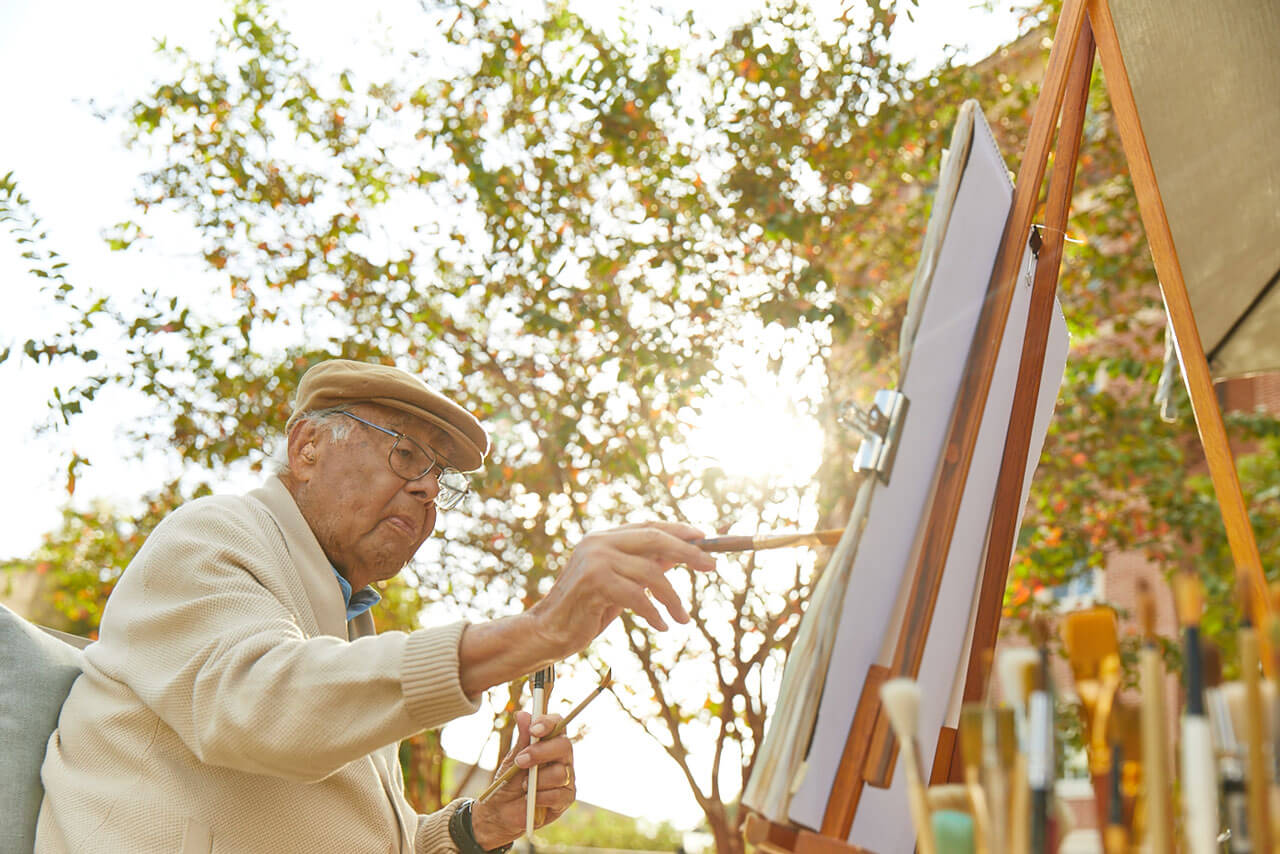 Coping with Caregiving Guilt and Grief
The majority of people living with dementia are cared for by family members or friends. In total, an estimated 16 million unpaid caregivers provide more than 18 billion hours of care. Over time, the demands of caregiving often take a toll on mental and physical health conditions. While rewarding, caregiving is a huge responsibility that can result in grieving, chronic stress and caregiver burnout.
Acknowledge the need for help
Everyone needs help at some point, and it doesn't mean that you're doing a "bad job" or letting anyone down. In fact, for the majority of families, it's in everyone's best interest to find outside help or long-term care—especially as your loved one progresses to the later stages of dementia, when health and safety can become compromised.
Still, many caregivers struggle with feelings of guilt and grief as they consider seeking additional help. Maybe you promised your loved one that you would never place them in assisted living, or perhaps you made a promise to yourself early on that you would take on the burden of care as a way of giving back to someone who has given you so much. It's a normal part of the process to feel guilt, stress, shame or any number of emotions. But it is also perfectly valid to seek help for dementia care to give you the time and energy to care for you and your family's physical, mental and financial wellbeing.
Recognize the benefits for your loved one
While this decision may be stressful, getting help can be one of the best ways to ensure your loved one's health, happiness and dignity. Care professionals are able to tailor the care they offer to meet needs and abilities, and their experience helps them to ensure that they're providing the right physical, mental and social stimulation. You get added peace of mind knowing that they're in good hands and feel less stressed now that everything isn't resting on your shoulders alone.
Caregiving burnout
Caregiving is an enormous responsibility that can take a toll on the caregiver. Emotional aspects aside, the added cooking, cleaning, transportation, supervision and exercise—on top of commitments with your work, life, family and other responsibilities—are physically exhausting.
You're also needing to make difficult decisions that you may have never expected to make. Any one of these facets can be overwhelming; when compounded, these responsibilities can quickly lead caregivers to feel burned out and guilty for not being able to "do it all."
When a caregiver is experiencing burnout, they can feel angry, depressed, exhausted and irritable, and each stage of dementia may be accompanied by changes in feelings and behaviors. Social interactions often become overwhelming, so some caregivers choose to withdraw from group activities. In addition, you may have trouble sleeping, be unable to concentrate on familiar tasks or see stress manifest physically—headaches, chest pain or high blood pressure.
Following a few key strategies can help reduce your risk of caregiver burnout when caring for someone with dementia.
8 ways to manage caregiver stress:
Recognize and acknowledge your feelings of guilt and grief. Realize that these emotions are likely also affecting other aspects of your life—work, relationships, mental health—and be kind to yourself when you find yourself reacting or behaving in a way that is uncharacteristic.
Join a support group. Others are experiencing the emotions and challenges that you're experiencing, and talking about it can help you cope.
Explore dementia caregiving options and assisted living. You may not need it yet—or perhaps you do—but in either case it's helpful to learn about options that can lessen the burden that you're feeling.
Work with a mental health professional. If you're struggling with feeling alone and overwhelmed or if you just need more emotional support, a counselor or therapist can help.
Talk to a family advisor about assisted living or memory care. Understand what each type of care entails and what you can expect if your loved one needs to make the transition to a community.
Start journaling. Writing down your thoughts is a healthy way to release your stress and manage your emotions.
Take a break. It is absolutely okay to take a step back to do an activity you enjoy to help you refresh and reset.
Practice self-care. To be an effective caregiver, you also need to take care of your own needs—mentally and physically.
Making the decision to move
Changes in your loved one's condition can indicate moderate or high care needs—and signal a need for professional support. If they're struggling with daily activities or experiencing extreme forgetfulness and other memory problems, it may be time to consider assisted living or a memory care community.
Even after you've made the decision to move your loved one into a community that specializes in memory care, the transition can be difficult. But take some peace from knowing that their new environment will be able to meet their care needs while allowing them to live their most fulfilling lives.
Those in the early stages of dementia often don't understand the full scope of their ability loss, and they don't want to leave a home that's full of memories of happy times. They will likely feel anxious and resistant to the move, fearful of losing their independence and of moving into an unfamiliar space.
However, memory care communities can lessen the degree of cognitive decline by providing opportunities for socialization and other stimulating activities, and it can help your loved one to regain feelings of purpose, belonging and happiness. Understand that, though moves to memory care communities are beneficial, you and your loved one will still have to process feelings of grief.
Your role doesn't end when they move into memory care—you will still be an important part of their life and care team. Many people even find that quality of life and their relationships improve once the weight of caregiving is lifted. With a professional memory care team handling the daily routine, you're able to spend more quality time with your loved one.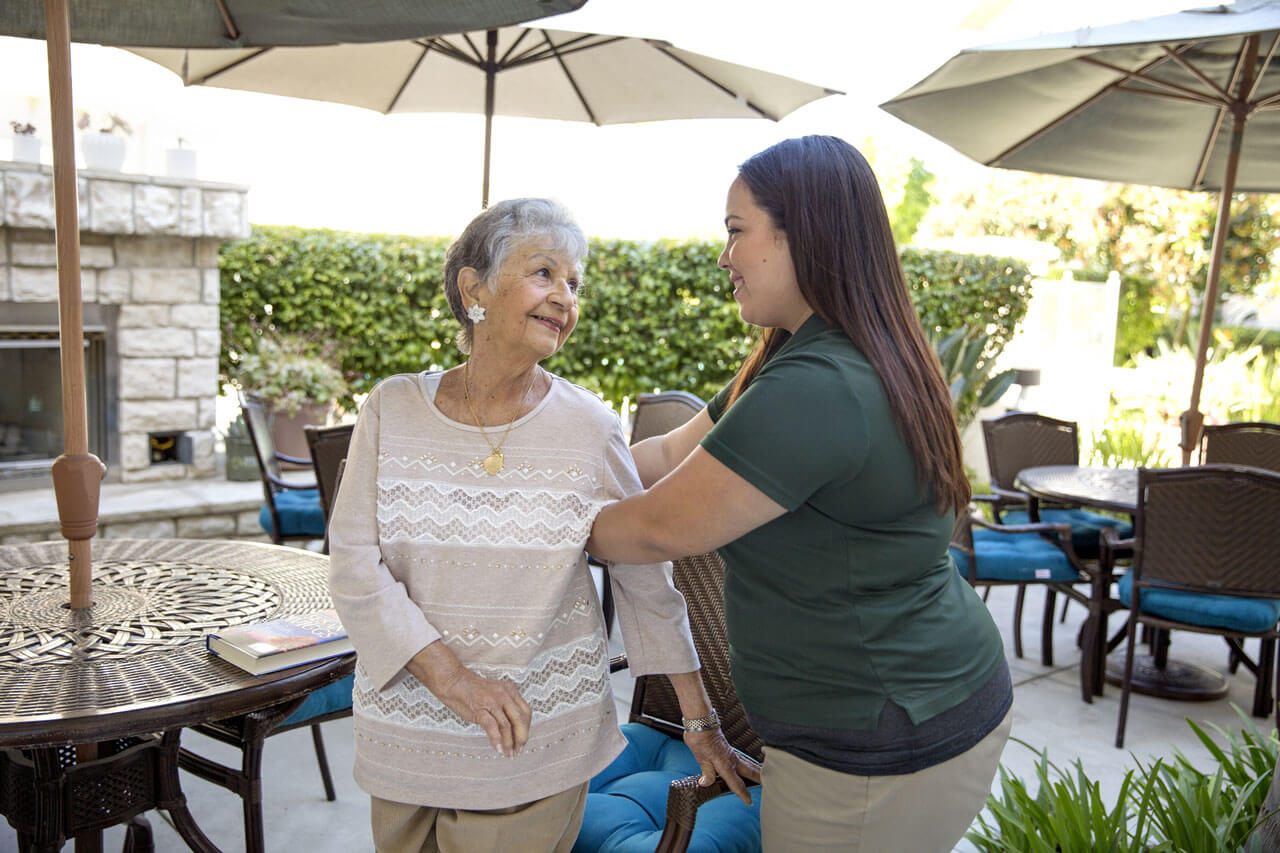 Changing dynamics
When a significant other has dementia
It's not uncommon for couples to face varying health needs as they age. Cognitive issues like dementia are particularly challenging, especially as one partner steps into the caregiving role. Often the affected partner still functions well in other ways but needs a higher level of support than even they may realize. This creates stress for both partners that can make time together difficult and time apart worrisome.
Finding a senior living community that provides a wide range of care allows couples with differing needs to continue living together while receiving the right care—even as care needs change.
When a parent has dementia
When caring for a parent with dementia, your parent may be resistant to taking direction from you, which makes day-to-day care more difficult. In addition, the role reversal—of the child now caring for the parent—can be an emotional transition to navigate.
Beyond the primary caregiver and parent, entire families are affected by the dementia diagnosis, which can require navigating complex family dynamics. Aunts and uncles may have a differing opinion in how you care for your parents, or you may struggle to make decisions or balance care among your siblings. The stress of the diagnosis and caregiving experience can also bring up old wounds, rivalries or disagreements that until now had been long-forgotten.
Remember that you are all on the same team—your parent's team. It can help to explore strategies for resolving issues and keeping lines of communication open.
Is It Time for Memory Care?
Learn about your options and get personalized results with this quick 4-5 minute survey.
Take the Survey
Talk to a Family Advisor
A Family Advisor will help you understand your senior living choices, provide useful information and answer any questions you may have.
Contact Us
Choosing the Right Senior Living
Learn about the amenities and services that different types of senior living choices provide. Assess changes in health, memory or behavior in yourself or a loved one. And learn what to look for—and the right questions to ask—when considering a senior living community.
Download My Free Ebook