The Community Built for Life
®
Giving seniors the life they deserve in a safe, secure environment
An original idea inspired by personal experience
When Patricia Will founded Belmont in 1998, she did so out of love of family. A medical real estate developer, she was seeking a better place for her mother-in-law, who was experiencing cognitive decline. Unable to find a community that combined the highest levels of hospitality and care, Will decided to create one herself.
Collaborating with California hospitals and universities
From the very beginning, Will understood the value of partnerships in bringing her unique vision to life. Leveraging connections with UCLA, she opened the first university-affiliated community in Westwood, California. The thought, research, and design that go into developing a Belmont Village community changed the paradigm of senior living, offering an experience based on reward, not denial.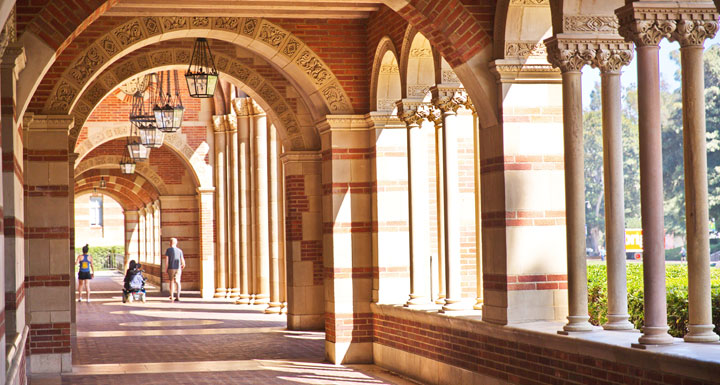 University of California, Los Angeles (UCLA)
TAPPING WORLD-CLASS EXPERTISE TO REDEFINE SENIOR LIVING
Accessing teams of specialists from universities, healthcare institutions, and professional organizations is the developmental model for every Belmont Village community. We not only collaborate with these institutions, we sponsor research. Currently, Will serves as a board member for the USC Davis School of Gerontology and the UCLA Longevity Center, where she not only sees the benefits of cutting-edge aging research but uses it to guide our services and programs.
Premium dining and hospitality
Food is one of life's great pleasures. To elevate this experience for our residents, the team at Belmont Village created our dining program with hospitality, food service, ergonomics, and engineering experts at the University of Houston Conrad N. Hilton College of Hotel and Restaurant Management.
Everything from the quality and nutritional value of the food, to the plating, to the architecture and design of our dining areas, to the room temperature was scrutinized and fine-tuned. Most importantly, we listened to our residents, to deliver a food and service experience seniors appreciate.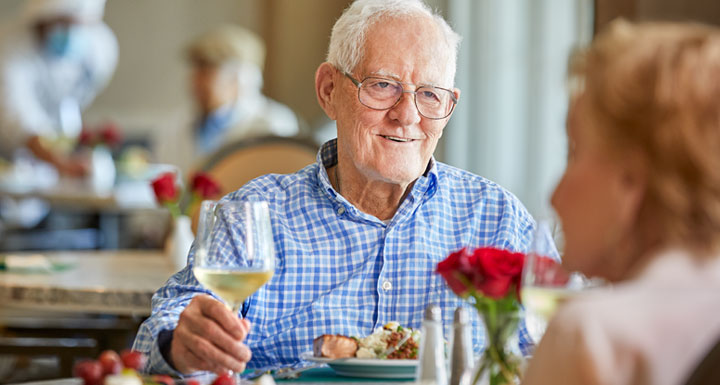 Evidence-based memory care programming
For residents experiencing mild to moderate cognitive decline, our award-winning memory care program Circle of Friends® takes a comprehensive approach that includes exercise, education, nutrition, and social engagement.
Demonstrably effective at mitigating the effects of memory loss, this program was developed through partnerships with neurologic researchers and clinicians at the UCLA Semel Institute for Neuroscience and Human Behavior, the International Alzheimer's Association, and other respected healthcare institutions and organizations.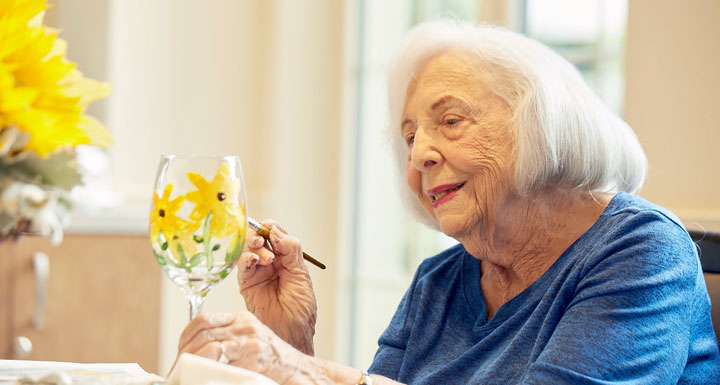 Unparalleled clinical support for ongoing health and wellness
Tailored to each resident's need, our holistic health and wellness program is supported on-site by licensed nurses and a trained staff 24/7. It includes nutritional and clinical support, physical and mental fitness, learning, social interaction, medication management, physical therapy and rehabilitation.
We also work closely with the UC San Diego School of Medicine, Stein Institute for Research on Aging, and Center for Healthy Aging for programming insights. Recently, residents at two of our communities in California even participated in a groundbreaking study on resilience and stress reduction through innovative intervention.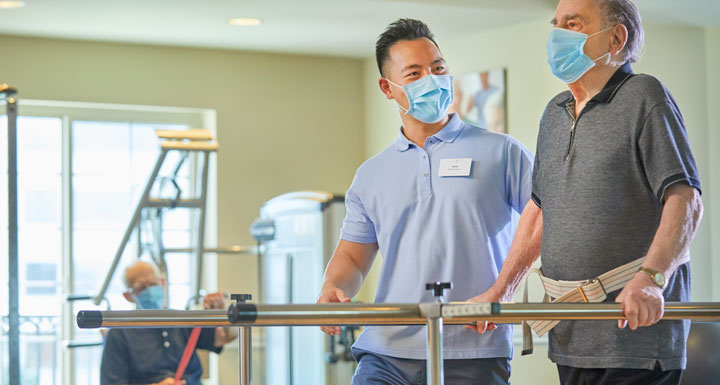 Continuity of Quality Guaranteed
Unlike other senior living communities that are managed by third party operators, Belmont Village builds, owns, and operates all of our communities, This means residents can rest assured that they will receive a consistent level of experience in programming, service, amenities, and dining for the long term.

Designed to meet the needs of every resident
Delicious food, fantastic amenities, engaging social activities, stimulating memory-care programming, and comprehensive clinical and therapeutic support. Here, everything comes together to help residents live their best lives, even if their lives change further down the road. Experiences are tailored to meet the personal needs of all residents, including couples requiring different levels of care who wish to continue living together.
"You guys are doing such a fine job during this rather unusual time. I can't think of how you could improve."
Wayne P., Resident family member
Belmont Village Burbank
Health & Safety in Our Communities
From our comprehensive program of safety protocols to our rapid administration of vaccines, Belmont Village is committed to protecting the health of our residents and staff. As with everything we do, our pandemic response is informed by the highest levels of expertise.
Explore Southern California-area living options
Independent Living
The good life on your own terms, with support when and if you need it.
ASSISTED LIVING
The perfect balance of independence and support, tailored to your needs.
MEMORY CARE
Unique, dignified plans in a carefully monitored and secure environment.
Find your Southern California Belmont Village community
Aliso Viejo, California

Three-story community in Orange County, combining care, comfort, and active living.

Address:
300 Freedom Ln
Aliso Viejo, CA 92656

Burbank, California

Beautifully designed community in the heart of Burbank Hills.

Address:
455 E Angeleno Ave
Burbank, CA 91501

Calabasas, California

Three-story community; a convenient Woodland Hills assisted living option as well.

Address:
24141 Ventura Blvd
Calabasas, CA 91302

Encino – Sherman Oaks, California

Beautifully designed community located in the Sherman Oaks/Encino area.

Address:
15451 Ventura Blvd
Sherman Oaks, CA 91403

Hollywood Hills, California

Five-story community located next door to the Hollywood Bowl.

Address:
2051 N Highland Ave
Los Angeles, CA 90068

Rancho Palos Verdes, California

Three-story community with beautiful landscaping, a short drive to the beach.

Address:
5701 Crestridge Rd.
Rancho Palos Verdes, CA 90275

Thousand Oaks, California

Beautifully landscaped three-story community near Paradise Falls.

Address:
3680 N Moorpark Rd
Thousand Oaks, CA 91360
HAVE A FAMILY ADVISOR CONTACT YOU