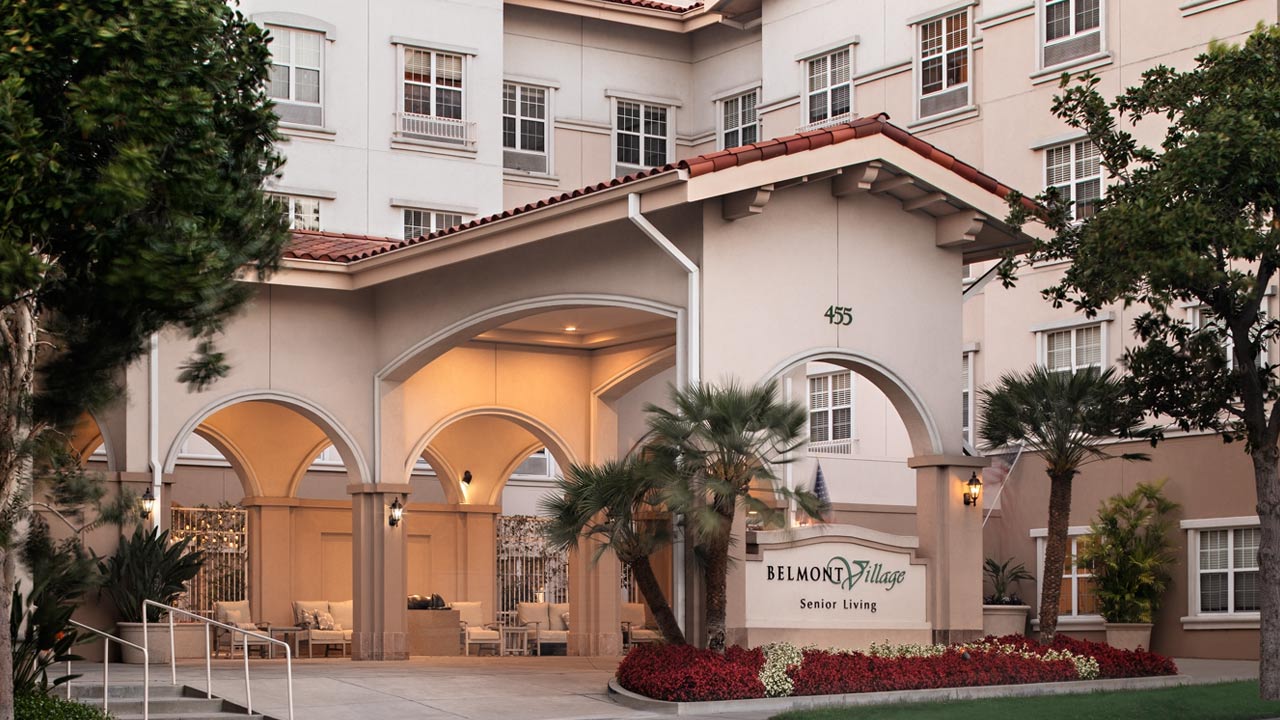 BELMONT VILLAGE SENIOR LIVING

BURBANK
At Belmont Village Burbank, you'll find a unique balance of innovative research-based programming, best-in-class care and resident-centered assisted living and memory care. Our beautifully designed senior living community is nestled in the heart of the attractive Burbank Hills area, surrounded by premier dining, shopping and entertainment. We're just a short drive from major hospitals and healthcare facilities and near numerous places of worship.
Our Burbank senior living community is unique not just for the residents who chose to live there, but for the wide spectrum of care we can provide, from assisted living to memory care options. Our licensure and care options allow couples with different care needs to stay together. And as your needs change, we can change with you, offering the right level of care for where you are right now. Our experienced management team and specially trained staff are here to provide just the right balance of senior care and support to suit any lifestyle.
Explore our community to learn more about your Burbank senior care options and discover our abundance of amenities, including an array of elegantly designed common areas for gatherings, an on-site fitness center, and dining that is second to none.
Senior Living Hospitality and Amenities
Chef-prepared dining with 24 daily choices
Bistro with daily refreshments
Professionally supervised fitness program
Free scheduled transportation daily
Social and enrichment activities
Screening room
Wi-Fi througout the building
Studio and 1-bedroom residence plans
Pet friendly community
Housekeeping services
Senior Living Programs and Support
Licensed nurse and well-trained staff on-site 24/7
Medication management
Assistance with daily living
Physical, speech and occupational therapy services on-site
Short-term recovery stays
Diabetes Center of Excellence
No buy-in or long-term contract required
THE RIGHT LEVEL OF CARE
Everything you need to thrive physically, socially and mentally is at your fingertips – a professionally managed fitness center with on-site therapy services, a licensed nurse and well-trained staff on-site 24/7, innovative, award-winning memory enrichment programs and a vibrant social activity calendar. Enjoy restaurant-style dining and a chef-prepared meal with new friends at Josephine's Kitchen, get pampered in our full-service salon, schedule complimentary transportation for personal excursions and appointments – the choice is yours.
BEST IN CLASS ASSISTED LIVING AND MEMORY CARE IN BURBANK
Backed by more than 20 years of company experience, Belmont Village has faithfully delivered the highest standard of care to Burbank families since 2002. At Belmont Village, our residents experience a unique range of enrichment programs for assisted living, a high standard of care and service, award-winning memory care, premier hospitality and our focus in helping residents live an engaging, purposeful life. Explore our communities in Greater Los Angeles and California.
RCFE License 197608468
Thanks so much for ALWAYS taking such good care of my grandma, especially during these times while my family and I can't physically be there for her. There hasn't been a day that goes by where I don't think about her and feel so grateful that she is at Belmont under your care!! You are all my heroes and I want you all to know that I appreciate everything you do to make sure she is still smiling and healthy.
Carin K., Belmont Village Burbank
Thank you so much for taking care of my mother. She enjoys participating in the group and is always up for any activity. She especially enjoys being outside on the patio. Thanks so much for your care during this difficult time and I appreciate all your extra efforts with our phone calls and questions of her care.
Heidi M., Belmont Village Burbank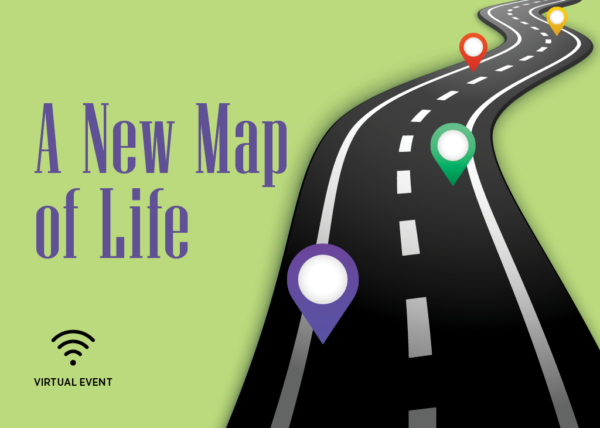 A New Map of Life
TUESDAY ∙ AUGUST 3, 2021 • 10 AM PT  |  12 PM CT  |  1 PM ET
TUESDAY ∙ AUGUST 3, 2021
10 AM PT  |  12 PM CT  |  1 PM ET
Speaker: Laura L. Carstensen, Ph.D.
Director, Stanford Center on Longevity, Professor of Psychology and the Fairleigh S. Dickinson Jr. Professor in Public Policy
Dr. Carstensen's research program includes theoretical and empirical study of motivational and emotional changes that occur with age and the influence such changes have on cognitive processing. She is an elected member of the National Academy of Medicine and has served on the MacArthur Foundation's Research Network on an Aging Society and the National Advisory Council on Aging to National Institute on Aging. She is the author of A Long Bright Future: Happiness, Health, and Financial Security in an Age of Increased Longevity.
Discussions about aging underway in the nation and around kitchen tables are typically fraught with concern. However, many of the challenges that longevity raises stem from a fundamental mismatch between the length of the lives we are living and the social norms and cultural institutions and supports that guide us through life. The Stanford Center on Longevity argues that we must build a culture that support century-long lives. In this talk, Dr. Carstensen will provide a birds-eye view of longevity and the role that culture played in extending life expectancy. We will also address ways in which the tragic COVID-19 pandemic offered unique insights into ways to redesign our lives so that quality of life improves at all ages.
For more information, contact Lauren Hollasch at lhollasch@belmontvillage.com or 773-327-2200.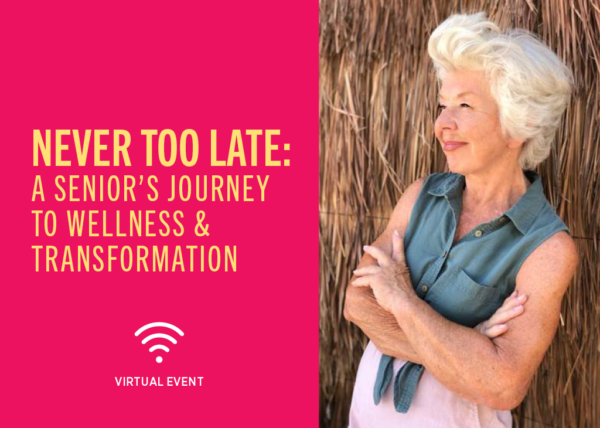 Never Too Late: A Senior's Journey to Wellness and Transformation
WEDNESDAY ∙ JULY 28, 2021 • 10:00 AM PT, 12:00 PM CT, 1:00 PM ET
WEDNESDAY ∙ JULY 28, 2021
10:00 AM PT | 12:00 PM CT | 1:00 PM ET
Speaker: Joan MacDonald, Senior Fitness Influencer
Join us for an inspiring hour with 75 year old fitness sensation, Joan MacDonald. Joan transformed her life at age 70 without any prior gym experience. Through daily exercise, meal planning and a new outlook on life, Joan has lost more than 70 pounds, gained substantial muscle and greatly improved her health. We'll discuss Joan's fitness and nutrition regimen, as well as the advice she has for seniors and women who want to transform their lives. Her decision to document her journey on Instagram has led to 1.4 million followers. She is continually inspiring and motivating others to start their own life changing journey.
For questions, contact Jacqueline Waldburger at 510-525-4554 or jwaldburger@belmontvillage.com.
---
How To Register Online
On a desktop computer or mobile device, click this link.
Register with the online form to receive the meeting information.
You will receive an email with event link, meeting ID and password.
For help in setting up Zoom or registering, please contact Jacqueline Waldburger at jwaldburger@belmontvillage.com.
Belmont Village Burbank is located at 455 E Angeleno Ave, Burbank, California.