A Great Place to Work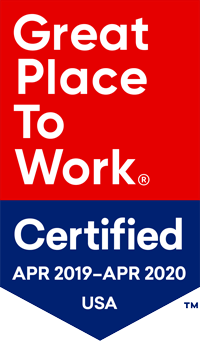 Each of our staff members plays an essential role in helping our residents have their best possible experience at Belmont Village and we think it's important that our employees have their best experience, too. Our goal is to build dedicated teams who serve our residents with knowledge, compassion and respect, and who love coming to work every day. We're happy to say that those who join us tend to stay – we have some of the longest tenured employees in senior living.
As a company, we put a high value and emphasis on employee learning and we offer growth opportunities at every level through our development programs. From new hire orientation to ongoing in-services, staff members receive training in our culture and standards in addition to specific training for their service areas. They also learn about the aging process, to help them gain a deeper understanding of our residents and their needs and preferences.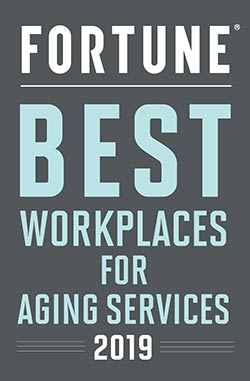 We believe there is a direct link between employee satisfaction and resident satisfaction so we are proud that our employees have helped us garner the Great Place to Work certification for the second year in a row. The certification process conducted by the Great Place to Work Institute, an independent research and consulting firm, reviewed 1,500+ employee surveys each year that evaluated more than 60 elements of team members' experience on the job. Based on the feedback of those employee surveys, we were also ranked 15 on FORTUNE'S 2018 Top 50 Best Workplaces in Aging Services list.
GROW, LIVE WELL, PROSPER
Rising Stars initiative identifies and mentors employee talent and creates career paths for growth and skill development
Management in-Training programs fosters growth and prepares individuals for a variety of roles within our communities, expanding trainees' knowledge in their fields and enhancing leadership and management skills with hands-on experience
Operations Trainee Program prepares recent college graduates for memory care and management-level roles within Belmont Village [link to career growth page]
Bright Ideas Contest provides employees the opportunity to submit an idea on how to make Belmont Village even better
Custom training programs developed and supported by dedicated corporate training department
On-site training by expert managers, with licensed trainers for special sessions
40+ hours orientation for all new hires with a competency/skill validation process
Advanced dementia training for all staff, extra training hours for direct care team
Internal certification program for memory care
Monthly in-service training for all employees
Blended training methods reinforce learning and support different learning styles
Theodore Burfict
AMERICAN HEROES RESIDENT PHOTOGRAPHY SERIES
---
"My service made me who I am; it taught me to lead and it taught me to listen. My family got to be a part of different cultures and have experiences that many people only read about – I appreciate that."