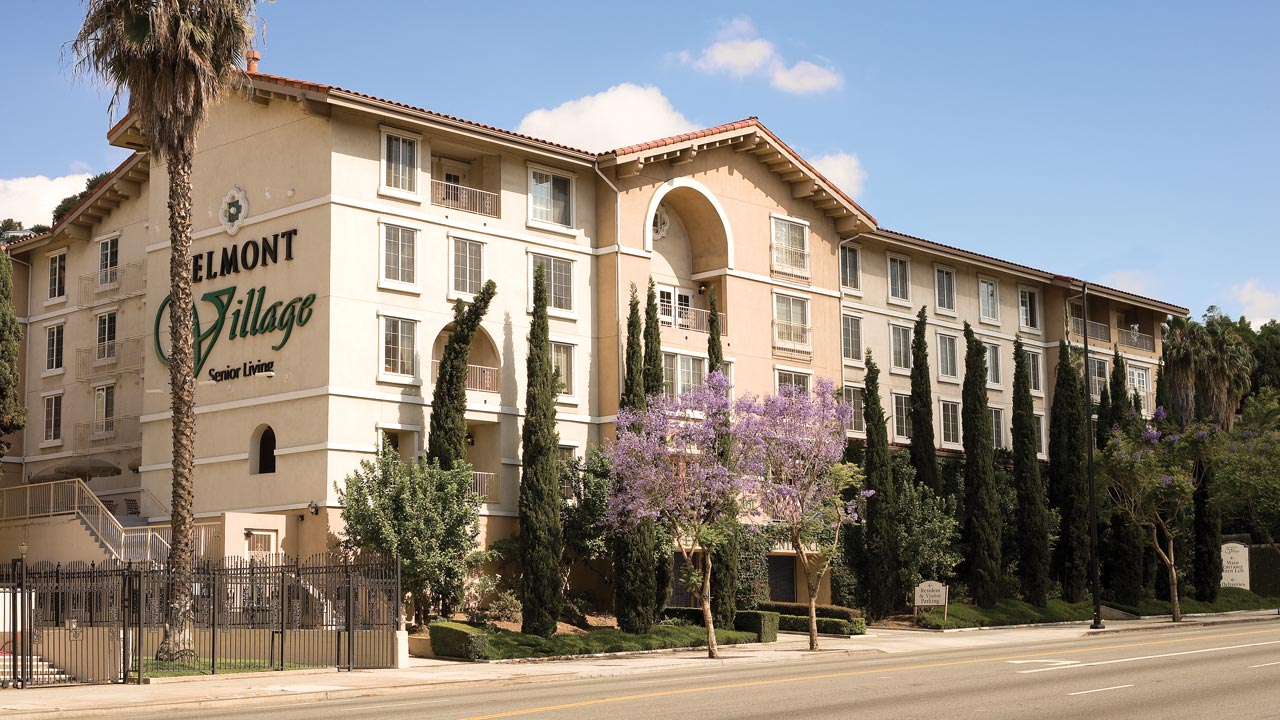 BELMONT VILLAGE SENIOR LIVING

HOLLYWOOD HILLS
QUESTIONS?
Call us at 323.471.1237
LIVING OPTIONS
Assisted Living
Memory Care
Is it time to get help?
Learn more about your options and decide the best fit for your care needs with this quick 4-5 minute survey powered by Roobrik.
Pay your bill online
Pay your Belmont Village bill easily, using our online payment portal.
At Belmont Village Hollywood Hills, you'll find a unique balance of innovative, research-based programming, best-in-class care and resident-centered living. Our community offers Assisted Living and Memory Care for older adults in the Hollywood area. Our beautifully landscaped community is located next door to the Hollywood Bowl, surrounded by premier dining, shopping and entertainment, and nearby beautiful parks and world-class medical facilities.
One of the things that makes our Hollywood senior living community unique is the wide spectrum of care we can provide, from assisted living to a range of memory care options, all under one roof. This means couples with different care needs can stay together. And as your needs change, we can change with you, offering the right level of care for where you are right now. Our experienced management team and specially trained staff are here to provide just the right balance of senior care and support to suit any lifestyle.
Explore our Hollywood senior living community and discover the abundance of amenities, including elegantly designed common areas for gatherings and a full daily calendar of enriching activities for health, wellness and social engagement.
Senior Living Hospitality and Amenities
Chef-prepared dining with 24 daily choices
Bistro with daily refreshments
Professionally supervised fitness center
Salon with services for men and women
Free scheduled transportation daily
Social and enrichment activities
Screening room
Wi-Fi throughout the building
Studio and 1-bedroom residence plans
Pet friendly community
Housekeeping services
Senior Living Programs and Support
Licensed nurse and well-trained staff on-site 24/7
Medication management
Assistance with daily living
Diabetes Center of Excellence
Physical, speech and occupational therapy services on-site
Short-term recovery stays
Diabetes Center of Excellence
No buy-in or long-term contract required
THE RIGHT LEVEL OF CARE
Everything you need to thrive physically, socially and mentally is at your fingertips – a professionally managed fitness center with on-site therapy services, a licensed nurse and well-trained staff on-site 24/7, innovative, award-winning memory enrichment programs and a vibrant social activity calendar. You'll enjoy restaurant-style dining and chef-prepared meals with new friends at Josephine's Kitchen, get pampered in our full-service salon, and schedule complimentary transportation for personal excursions and appointments with our concierge.
BEST IN CLASS ASSISTED LIVING IN LOS ANGELES
Backed by more than 20 years of company experience, Belmont Village Hollywood has faithfully delivered the highest standard of care to Hollywood families. What separates Belmont Village from typical senior communities in Los Angeles is our range of enrichment programs, high standard of care and service, award-winning memory care, premier hospitality and our focus on helping residents live engaging, purposeful lives.
Explore our Los Angeles Belmont Village Senior Living Communities here.
RCFE License 197608467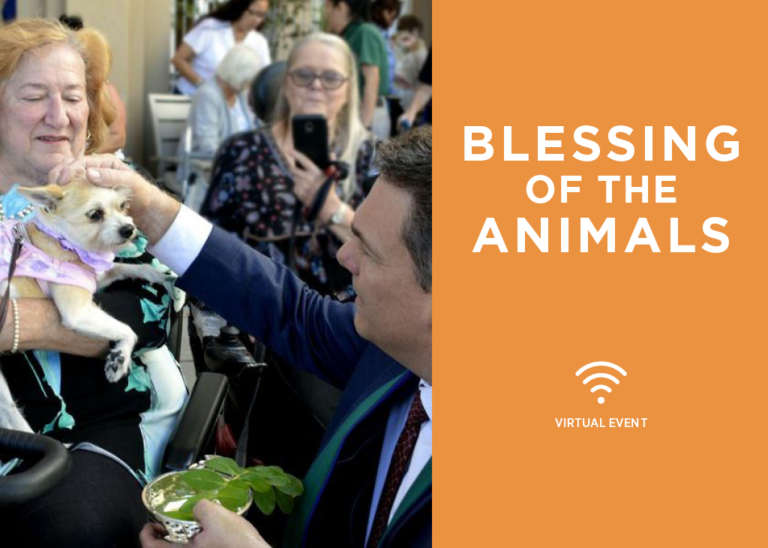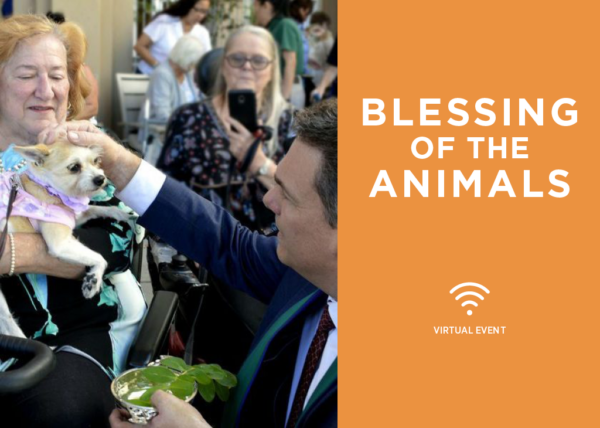 Blessing of the Animals
Sunday • October 4, 2020 • 1:00 – 1:30 PM PST
Sunday • October 4, 2020
1:00 – 1:30 PM PDT
Zoom URL:
https://zoom.us/join
Meeting ID:
922 5490 7129
Passcode:
RSVP to Receive
Speaker: Reverend Ross Purdy, Ph.D.
Head of Staff, First Presbyterian Church, Burbank
Reverend Ross is an ordained Presbyterian minister. For over 15 years, Ross has conducted Bible studies and lead hymn singing at Belmont Village Burbank. In addition to his work at First Presbyterian Church, he teaches courses in Church History and Pastoral Care and Counseling at the International Theological Seminary in West Covina.
The blessing of pets and animals is often celebrated on October 4, marking the feast of St. Francis of Assisi. This year, Belmont Village Senior Living and First Presbyterian Church are making this beloved event available virtually. Join us for this Zoom event with your furry friend as Reverend Ross Purdy blesses each animal's health and life.
RSVP to Tracey Paulk at tpaulk@belmontvillage.com. Please provide your pet's name, age, and photo (optional) at time of RSVP.
*Blessed pets will receive a confirmation certificate via email the following week.
---
How to Join a Virtual Event
1) On a desktop computer or mobile device, open an internet browser and input the url: https://zoom.us/join.
OR
Download the desktop or mobile app and sign up for a free Zoom account.
2) Input the meeting ID: 922 5490 7129
3) Input the password: RSVP to Receive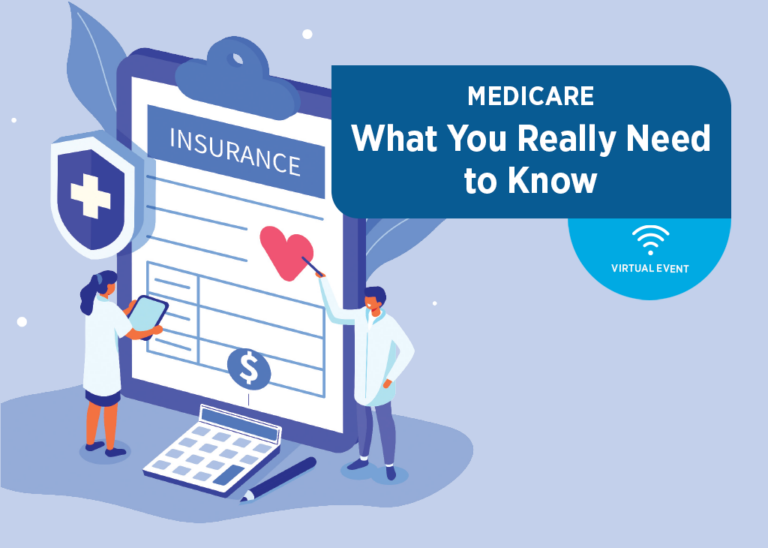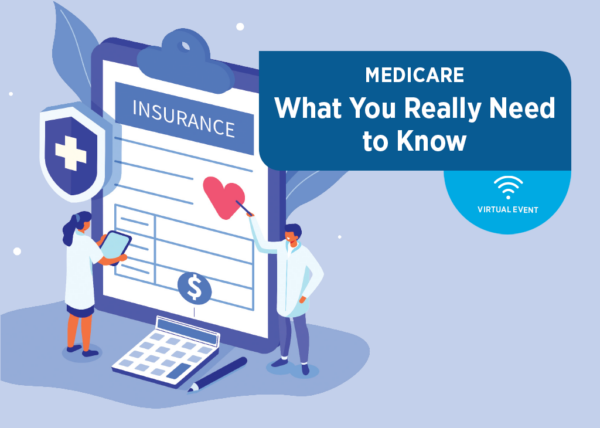 MEDICARE: What You Really Need to Know
THURSDAY • OCTOBER 8, 2020 • 4:00 PM PDT
THURSDAY • OCTOBER 8, 2020
4:00 PM PDT
SPEAKER: KATHE KLINE
Licensed Clinical Psychologist, Cognitive Rehabilitation & Brain Health Kathe is uniquely qualified to help guide families through Medicare, having 30 years of experience as a financial advisor. In 2016, she launched a podcast called the Rock Your Retirement Show, which focuses on retirement lifestyle.
Join us for an informative workshop on the ins and outs of Medicare before the next enrollment season. We'll discuss how a zero-premium plan isn't free, the difference between Medicare Advantage and Original Medicare with a supplement plan, and which plan types make it easier for you to see a mobile doctor.
For questions, contact Paula Lemkuil at plemkuil@belmontvillage.com or 858-486-5020.
This event is for educational purposes only, no plan specific benefit information will be shared. For accommodations of persons with special needs call 866-445-6683 TTY 711.
---
How To Register Online
On a desktop computer or mobile device, click this link.
Register with the online form to recieve the meeting information.
You will recieve an email with event link, meeting ID and password.
For help in setting up Zoom or registering, please contact Paula Lemkuil at plemkuil@belmontvillage.com.
Belmont Village of Hollywood Hills Recent Newsletters
Belmont Village Hollywood Heights is located at 32051 N Highland Ave, Los Angeles, California.