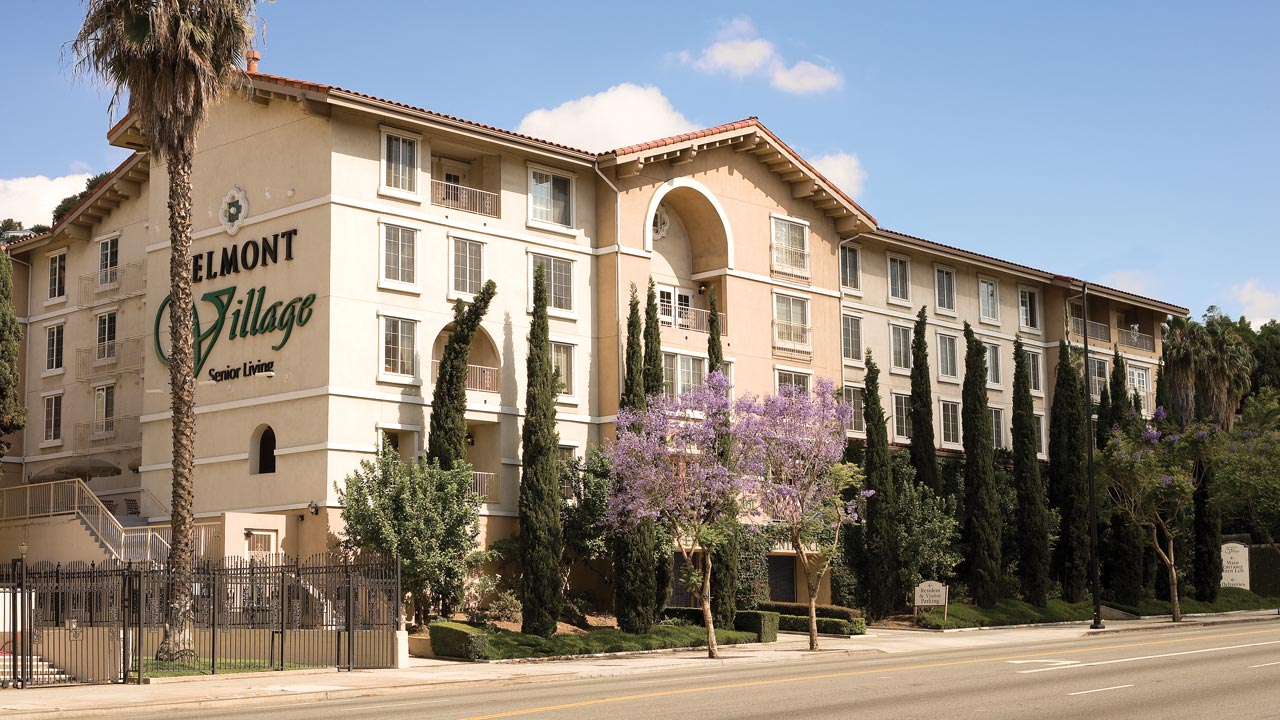 BELMONT VILLAGE SENIOR LIVING

HOLLYWOOD HILLS
At Belmont Village Hollywood Hills, you'll find a unique balance of innovative, research-based programming, best-in-class care and resident-centered living. Our community offers Independent Living, Assisted Living and Memory Care for older adults in the Hollywood area. Our beautifully landscaped community is located next door to the Hollywood Bowl, surrounded by premier dining, shopping and entertainment, and nearby beautiful parks and world-class medical facilities.
One of the things that makes our Hollywood senior living community unique is the wide spectrum of care we can provide, from independent living and assisted living to a range of memory care options, all under one roof. This means couples with different care needs can stay together. And as your needs change, we can change with you, offering the right level of care for where you are right now. Our experienced management team and specially trained staff are here to provide just the right balance of senior care and support to suit any lifestyle.
Explore our Hollywood senior living community and discover the abundance of amenities, including elegantly designed common areas for gatherings and a full daily calendar of enriching activities for health, wellness and social engagement.
Senior Living Hospitality and Amenities
Chef-prepared dining with 24 daily choices
Bistro with daily refreshments
Professionally supervised fitness center
Salon with services for men and women
Free scheduled transportation daily
Social and enrichment activities
Screening room
Wi-Fi throughout the building
Studio and 1-bedroom residence plans
Pet friendly community
Housekeeping services
Senior Living Programs and Support
Licensed nurse and well-trained staff on-site 24/7
Medication management
Assistance with daily living
Diabetes Center of Excellence
Physical, speech and occupational therapy services on-site
Short-term recovery stays
Diabetes Center of Excellence
No buy-in or long-term contract required
THE RIGHT LEVEL OF CARE
Everything you need to thrive physically, socially and mentally is at your fingertips – a professionally managed fitness center with on-site therapy services, a licensed nurse and well-trained staff on-site 24/7, innovative, award-winning memory enrichment programs and a vibrant social activity calendar. You'll enjoy restaurant-style dining and chef-prepared meals with new friends at Josephine's Kitchen, get pampered in our full-service salon, and schedule complimentary transportation for personal excursions and appointments with our concierge.
BEST IN CLASS ASSISTED LIVING IN LOS ANGELES
Backed by more than 20 years of company experience, Belmont Village Hollywood has faithfully delivered the highest standard of care to Hollywood families. What separates Belmont Village from typical senior communities in Los Angeles is our range of enrichment programs, high standard of care and service, award-winning memory care, premier hospitality and our focus on helping residents live engaging, purposeful lives.
Explore our Los Angeles Belmont Village Senior Living Communities here.
RCFE License 197608467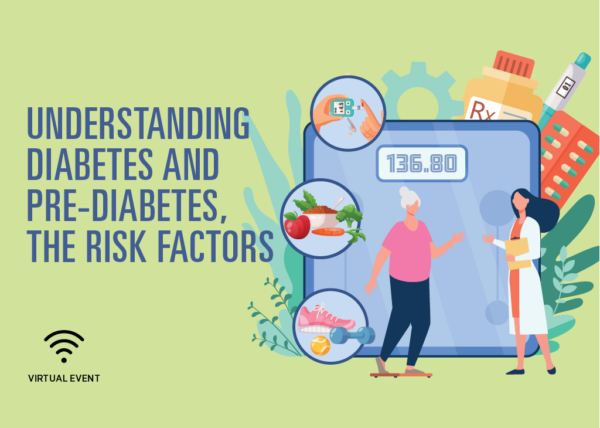 Understanding Diabetes and Pre Diabetes, The Risk Factors
Wednesday • November 10, 2021 • 11 AM PT | 1 PM CT | 2 PM ET
Wednesday • November 10, 2021
11 AM PT | 1 PM CT | 2 PM ET
SPEAKER: SARAH KIM, MD
Associate Clinical Professor of Medicine and Director of the UCSF Diabetes Teaching Center
Sarah Kim received her MD from Tufts University School of Medicine and did a combined Internal Medicine-Pediatric Residency and Adult Endocrine Fellowship at UCLA before an Advanced Diabetes Fellowship at UCSF. She is an associate clinical professor in endocrinology and metabolism at UCSF at Zuckerberg San Francisco General, and directs the UCSF Diabetes Teaching.
For Diabetes Awareness Month, we're learning more about this disease and how it can affect us. Join us for an informative webinar with a leading diabetes physician as we learn the basics of diabetes and how it develops, the risk factors for developing diabetes and pre-diabetes and why it is growing in prevalence. We'll also discuss how we can prevent and manage diabetes and pre-diabetes.
For questions, please contact Jackie Waldburger
at jwaldburger@belmontvillage.com.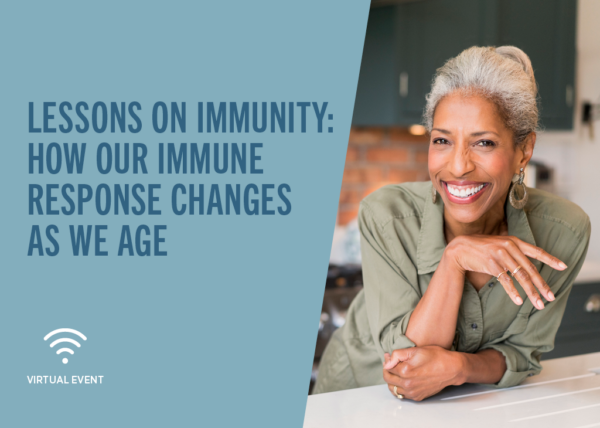 Lessons on Immunity: How Our Immune Response Changes As We Age
Tuesday ∙ November 2, 2021 • 1 PM PT | 3 PM CT | 4 PM ET
Tuesday ∙ November 2, 2021
1 PM PT | 3 PM CT | 4 PM ET
SPEAKERS: DR. PETER HOTEZ, MD, PHD, Baylor College of Medicine
Dr. Hotez is a world renowned expert in the fields of vaccinology, global health, and infectious disease control. He teaches at Baylor College of Medicine, and runs a research lab that has been a terrific contributor to the battle against COVID-19. Dr. Hotez is a frequent contributor on CNN, and an accomplished author. His latest work, Preventing the Next Pandemic, was published earlier this year.
DR. CARLA PERISSINOTTO, MD, MHS, University of California,
San Francisco
Dr. Perissinotto is a professor and leading clinician of internal medicine for the elderly at the University of California San Francisco (UCSF) medical school. At UCSF she manages inpatient and outpatient clinical programs which represent the gold standard in healthcare for the elderly. Dr. Perissinotto has been a longtime collaborator with senior care providers to prevent infectious diseases in community settings.
MODERATOR: PATRICIA WILL, Founder & CEO of Belmont Village
Senior Living
Patricia Will is the Founder and CEO of Belmont Village Senior Living and a leading innovator her field. As it celebrates 25 years, Belmont Village currently operates 31 best in class communities in eight states and Mexico City. The company was among the first in the nation to fully vaccinate its resident population as well as its workforce. Mrs. Will was recently inducted into the Texas Business Hall of Fame and into the Senior Housing Hall of Fame.
Immunity has been a persistent topic since COVID-19 appeared around the world—especially for seniors. Join us for an informative webinar presentation on how immunity changes as we age, how we can "boost" immunity, and factors that can affect immunity. We'll also discuss how vaccines improve our immunity and what's to come for COVID-19 boosters. A Q&A session to follow.
For more information, email comm@belmontvillage.com.
Belmont Village Hollywood Heights is located at 32051 N Highland Ave, Los Angeles, California.