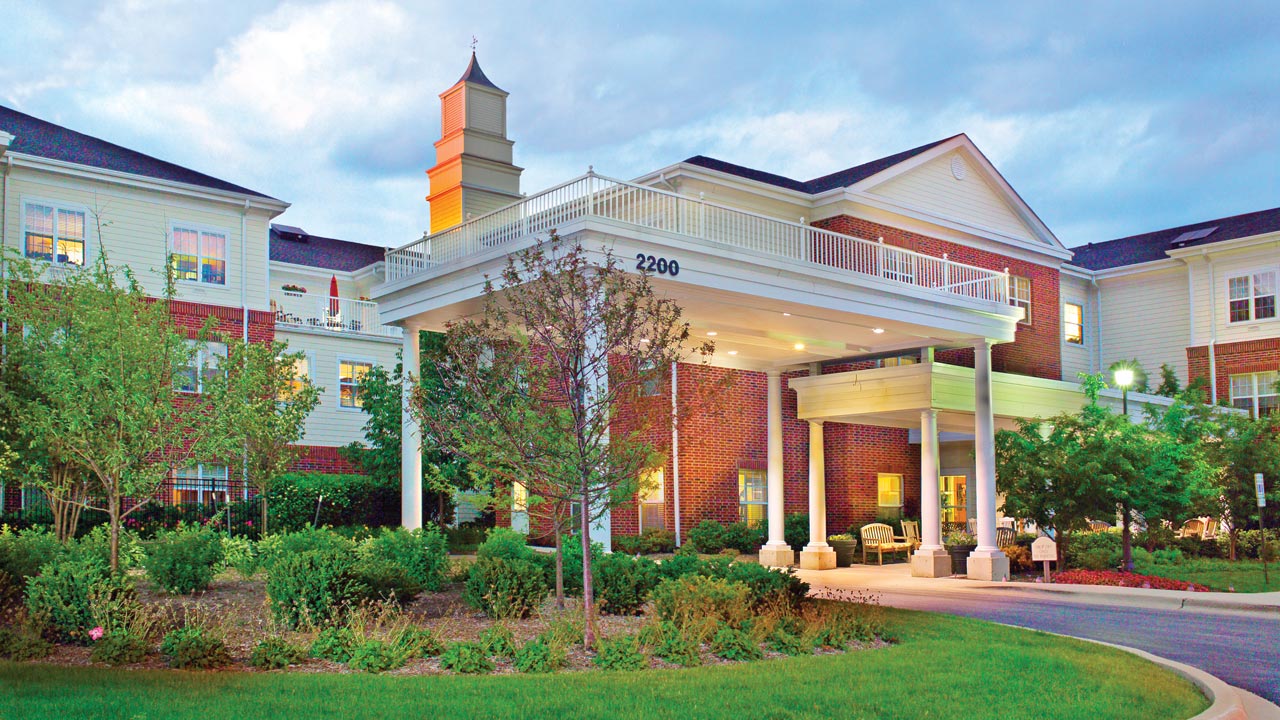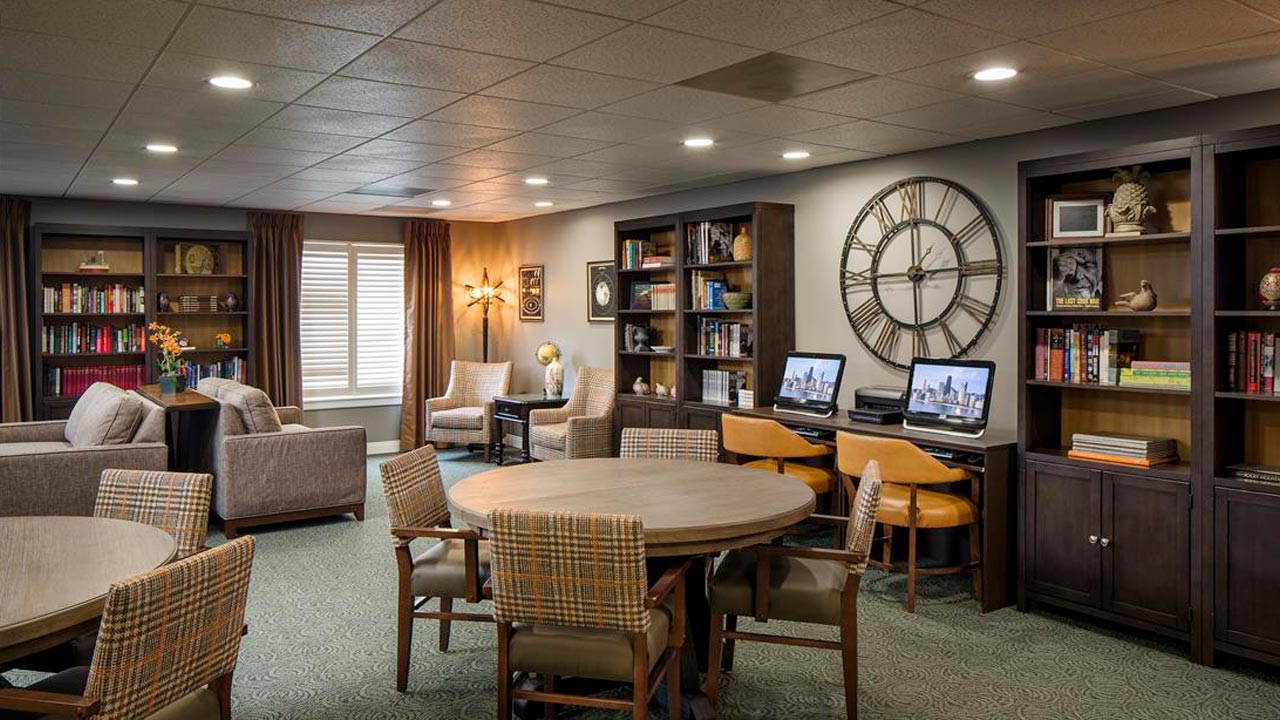 BELMONT VILLAGE SENIOR LIVING

GLENVIEW
QUESTIONS?
Call us at 847.416.8912
LIVING OPTIONS
Assisted Living
Memory Care
Family Visits
Make an appointment to visit with your loved one and review our COVID-19 safety protocols.
Is it time to get help?
Learn more about your options and decide the best fit for your care needs with this quick 4-5 minute survey powered by Roobrik.
Pay your bill online
Pay your Belmont Village bill easily, using our online payment portal.
Belmont Village Glenview is home to decades of experience, millions of memories and several lifetimes of learning. Our beautifully landscaped senior living community is surrounded by premier dining, shopping and entertainment. We're just a short drive from major hospitals, including Lutheran General, Skokie and Glenbrook Hospital, along with numerous places of worship.
At Belmont Village Glenview, we strive to make every day engaging and purposeful for our residents. We provide a wide spectrum of care, including assisted living and a range of award-winning memory care. Our community is licensed throughout the building to our highest level of care. That means couples with different care needs can stay together – like always. And as your needs change, we can change with you, offering the right level of care for where you are right now. Our experienced management team and specially trained staff are here to provide just the right balance of senior care and support to suit any lifestyle.
If you're searching for award-winning assisted living or memory care in the Chicago North Shore area, we invite you to visit our community. Once here, you'll discover an abundance of amenities, including an array of elegantly designed common areas for gatherings and a robust daily calendar of enriching activities for health, wellness and social engagement.
Senior Living Hospitality and Amenities
Chef-prepared dining with 24 daily choices
Bistro with daily refreshments
Professionally supervised fitness program
Salon with services for men and women
Free scheduled transportation daily
Social and enrichment activities
Wi-Fi throughout the building
Studio and 1-bedroom residence plans
Pet friendly community
Housekeeping services
Senior Living Programs and Support
Licensed nurse and well-trained staff on-site 24/7
Medication management and supervision
24/7 urgent care telemedicine available
Assistance with daily living
Physical, speech and occupational therapy services on-site
Short-term respite and transitional stays
Diabetes Center of Excellence
No buy-in or long-term contract required
THE RIGHT LEVEL OF CARE
Step inside our community and you'll find everything you need to thrive physically, socially and mentally is at your fingertips – a professionally managed fitness center with on-site therapy services, a licensed nurse and well-trained staff on-site 24/7, innovative, award-winning memory enrichment programs and a vibrant social activity calendar. Here, residents enjoy restaurant-style dining and chef-prepared meals with new friends at Josephine's Kitchen, get pampered in our full-service salon, and schedule complimentary transportation for personal excursions and appointments with our concierge.
BEST IN CLASS SENIOR LIVING IN GLENVIEW, ILLINOIS
For more than 20 years, seniors have made Belmont Village communities their own throughout the country their own, supported by a high standard of care. Several unique features separate Belmont Village from other retirement and senior living communities in Chicago, but if you ask our residents or their families, they cite our range of enrichment programs, award-winning memory care, premier hospitality and our focus in helping residents live engaging, purposeful lives. Explore our Chicagoland Belmont Village senior living communities here.
Sheltered Care License 0052084
I am SO VERY GRATEFUL every single day for all that you do! I miss visiting my mom so much, but I know that she is in good hands with each of you. You are the ones giving her a smile, a loving touch, and kind words that I firmly believe penetrate her disease and make her feel just a bit safer. Thank you for being my surrogate during this difficult time.
Rochelle K., Belmont Village Glenview
I cannot say enough wonderful things about the staff. Everyone is so dedicated and caring for my dad. And as a nurse, I empathize with how busy and demanding your work can be taking care of [residents]. Your team in the neighborhood are especially dedicated due to the unique population of patients you care for. After every visit I give thanks for all of you. And now with this pandemic you are truly heroes.
Mary K., Belmont Village Glenview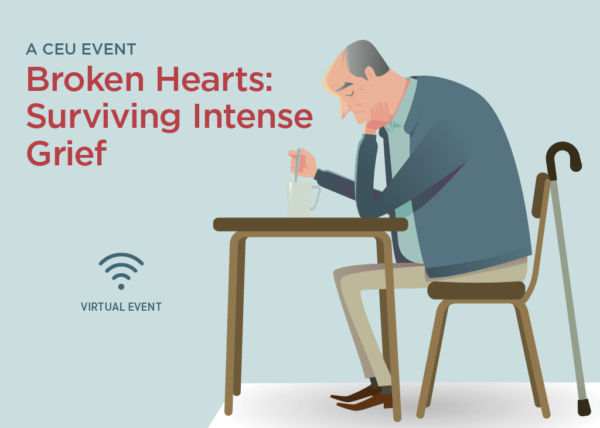 Broken Hearts: Surviving Intense Grief
Wednesday • March 17, 2021 • Noon CST
A CEU EVENT
Wednesday • March 17, 2021
Noon CST
SPEAKER: Trish Abbey, LCSW
Clinical Social Worker
Trish's work focuses on older adults. After earning her MSW from Loyola University Chicago, Trish has developed her skills in case management, program development, elder abuse, memory care, and supervision. Trish has previously worked as a case manager at Leyden Senior Services and North Shore Senior Services, and at Palatine Township Senior Center as Director of Social Services. She is currently a private practice therapist with In Home Counseling for Seniors. Trish has provided many CEU presentations to a variety of audiences on a wide variety of topics. She is also the Executive Director of the Kott Gerontology Institute, a nonprofit organization that provides scholarships to graduate-level students in a variety of fields focused on aging.
"You will lose someone you can't live without, and your heart will be badly broken…" — Anne Lamott (Source: Goodreads)
Grief and heartbreak: the two are inseparable — and it's complicated. So what can we do when we are working with or helping someone dealing with loss? In this presentation, you will learn healthy coping skills, what not to say to someone grieving, available support and other information about the process of grief. We'll cover grief caused by experiences ranging from death of a loved one or pet, loss of independence, to anticipatory grief. We will also talk about Broken Heart Syndrome in which the body physically reacts to the stress of grief and how that is treated.
For questions, contact Jodi Weinberg at jweinberg@belmontvillage.comor 847-537-5000.
1.0 CE CREDITS will be awarded to Illinois nurses, social workers, professional counselors, and nursing home administrators. CEUs provided by Elderwerks Educational Services. 

---
How To Register Online
On a desktop computer or mobile device, click this link.
Register with the online form to receive the meeting information.
You will receive an email with event link, meeting ID and password.
For help in setting up Zoom or registering, please contact Jodi Weinberg at jweinberg@belmontvillage.com.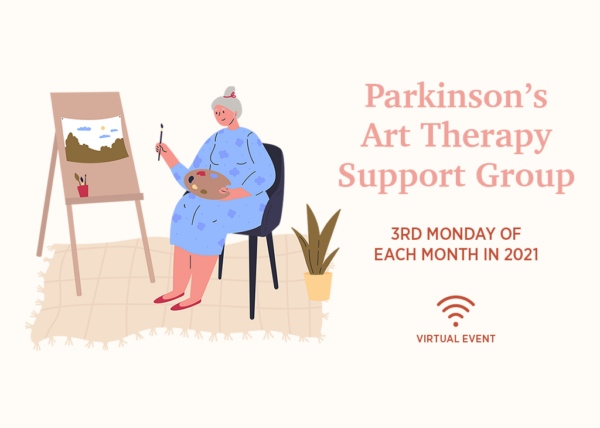 Parkinson's Art Therapy Support Group
3RD MONDAY OF EACH MONTH IN 2021 Starting MONDAY • JANUARY 18, 2021 10:00 – 11:00 AM CT To Register RSVP to Erin at erin.cecchi@nm.org Expression through art can be a gateway to relief for many, including those with Parkinson's disease. Art therapy is a mental health service where individuals use various art forms and […]
3RD MONDAY OF EACH MONTH IN 2021
Starting
MONDAY • JANUARY 18, 2021
10:00 – 11:00 AM CT
To Register
RSVP to Erin at erin.cecchi@nm.org
Expression through art can be a gateway to relief for many, including those with Parkinson's disease.
Art therapy is a mental health service where individuals use various art forms and materials to explore feelings, strengthen mind-body connection, and engage with a supportive community. Join us for the first meeting of our monthly support group to make new connections and express yourself.
Space for the group is limited. RVSP Required. A packet of art supplies will be available to registered participants at no cost.
RSVP to Erin at erin.cecchi@nm.org by January 11. To speak to a Belmont Village Senior Living Representative, contact Lauren Hollasch at lhollasch@belmontvillage.com or 773-484-7861.
Belmont Village Glenview is located at 2200 Golf Rd, Glenview, Illinois.