The sculpture, called Torqueri VIII, will be dedicated July 11.
ALBANY – A sculpture by Bruce Beasley will be unveiled on July 11 at the new Belmont Village Senior Living facility. The sculpture is part of the city's public arts program and was included as part of the development on the UC Berkeley-owned property.
The sculpture, called Torqueri VIII, will be dedicated at an 11:30 a.m. ceremony at Belmont Village, 1100 San Pablo Ave. Beasley will speak at the ceremony as well as Albany Mayor Peggy McQuaid, Albany Arts Commission chair Peter Goodman and Belmont Village CEO Patricia G. Will.
"This is an important one," Beasley said, noting the scale of the piece.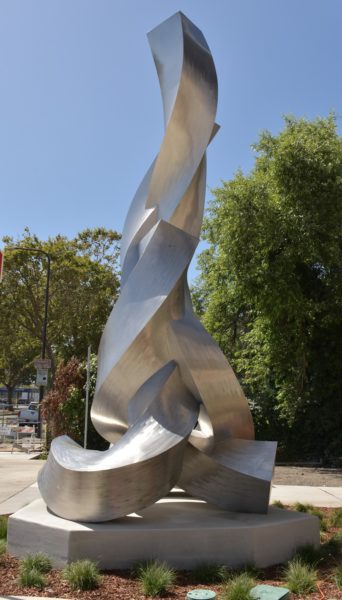 "No, I'm not nervous," the 78-year old Beasley said when asked about opening day jitters. "I think the piece is very good. I think it will have a very positive reaction."
Beasley said he was looking for an attention-grabbing piece for the space.
"The city had articulated a desire to have a sculpture that would act as a beacon and sort of a way-maker for the border between Albany and Berkeley," he said. "I felt the piece had to have a major scale, be light reflective and have a fair amount of drama.
"If you want something to be a way-marker, then it has to grab attention, say, 'Here I am,' and say why we're marking this border."
The 22-foot burnished stainless steel sculpture stretches up to the sky from a series of curves at its base.
Belmont Village is due to open this summer. It is part of a controversial development on university-owned land that also includes a Sprouts Farmers Market that opened earlier this year and smaller retail outlets.
Click here to read the full article by the East Bay Times.