AWARE president Barbara Glass worked in partnership with AWARE president-elect Karisti Julia and Nancy Sanders, Executive Director of Belmont Village Turtle Creek, to coordinate sales and delivery of luscious poinsettias to benefit AWARE. Holiday Poinsettias Sales Benefited AWARE
Dedicated to Fighting Alzheimer's Disease Since 1989.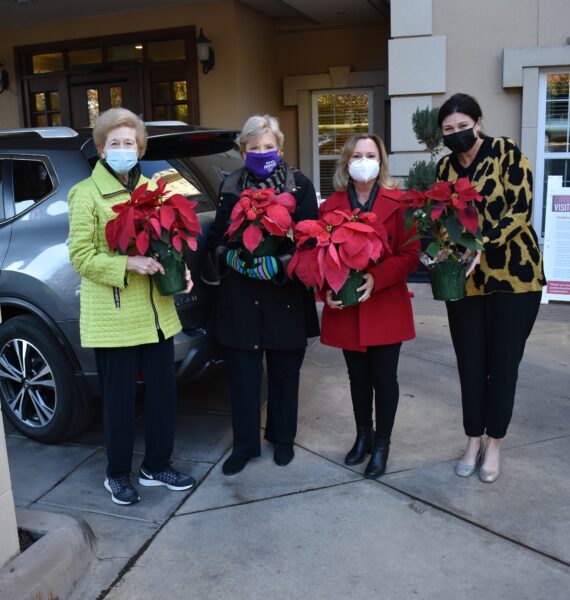 As purchasers and supporters drove up and their poinsettias were loaded into their vehicles by mask-wearing helpers Lilly Adrian and Lisa Mach, they were also treated to homemade cookies, warm apple cider to go and Emily Wiskera from the Dallas Museum of Art, who handed out make-your-own holiday ornament art kits.
"We wholeheartedly thank everyone who purchased poinsettias and want them to know that 100% of the proceeds benefits AWARE in its fight against Alzheimer's disease," Barbara said. "Keep in mind, membership is open to the entire community and we encourage everyone to visit the website at www.AWAREDallas.org to find out more about AWARE and our upcoming education events and fundraising efforts."
AWARE is dedicated to fighting Alzheimer's disease by providing funding and support to programs, projects, and research provided by nonprofit organizations that actively help individuals affected by Alzheimer's in Dallas and the greater North Texas area. In other words, the funds raised by AWARE stay in our local community. To learn more about AWARE, membership benefits, special events, educational programs and more, visit the website at www.AWAREDallas.org  Instagram:@awaredallas. Facebook: @awaredallas The Dallas Foundation, a 501(c)(3) publicly supported charity, Federal Tax ID 75-2890371, is the fiscal sponsor of AWARE.