Good building design creates a sense of place. The design takes its cues from the cultural cues and environment around it, resulting in a community that fits In with Its surroundings, but also feels like a destination.
This sense of place provides an emotional footing, too. It grounds residents, so they feel part of their community connecting them to local history and to their own history.
This year's Senior Living by Design award winners provide a sense of place. Each design respects the past, but also looks forward to the future.
Belmont Village Lincoln Park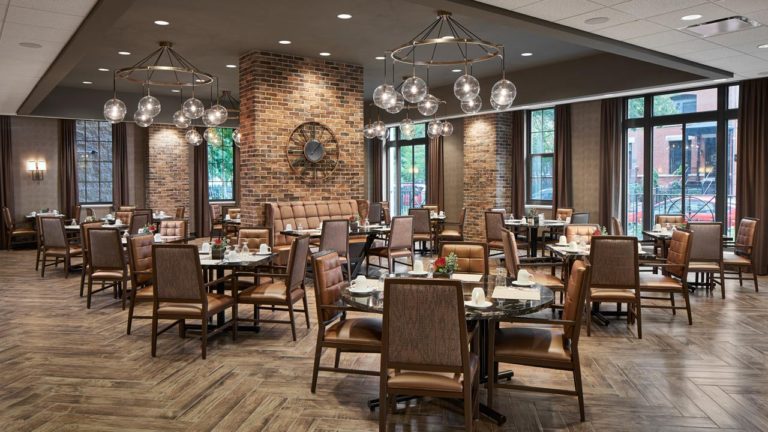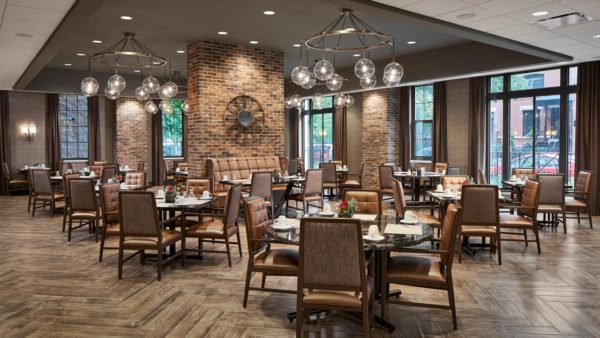 Belmont Village Lincoln Park replicates a well-known building in a dense Chicago neighborhood. The community wanted to keep its landmark, and the designers listened and made it happen- down to the last brick. The interiors burst with Chicago pride.
The five winners and the 29 Senior Living by Design nominees showcase forward-facing design trends, use of materials, and concepts that have promise for the long term. Together. They make up a collection of inspiring and engaging communities ready to welcome residents home.
Blending into a deep-rooted neighborhood often presents a challenge. But Belmont Village faced a particularly novel situation with its new project in Chicago's Lincoln Park, a dense urban area undergoing significant change.
Belmont Village Lincoln Park had a mission: Replicate the exterior of the treasured neighborhood landmark it would replace. The Nellie A. Black building had been constructed in 1932 to house nurses and interns working at a nearby hospital, since torn down.
"We design buildings to fit in with the local feel of the community," says Mike Hostler; vice president of architecture at Belmont Village.
The goal was to create a state-of-the-art senior living community adjacent to the new, upscale mixed-use Lincoln Common development, itself replacing the old hospital.
The location was suited to a senior living project: Bustling Lincoln Park features premier shops and restaurants, a college campus, and parks and theaters, as well as access to public transportation.
Eight years in the making, with a grand opening celebrated in July, Belmont Village Lincoln Park features 149 assisted living and memory care apartments.
The new seven-story building had to occupy the footprint of the original six-story building while maintaining existing height restrictions. That presented a challenge to create space for enough residences to make the project financially feasible.
ON TREND: Listening. Working with local groups for everyone wins design solutions.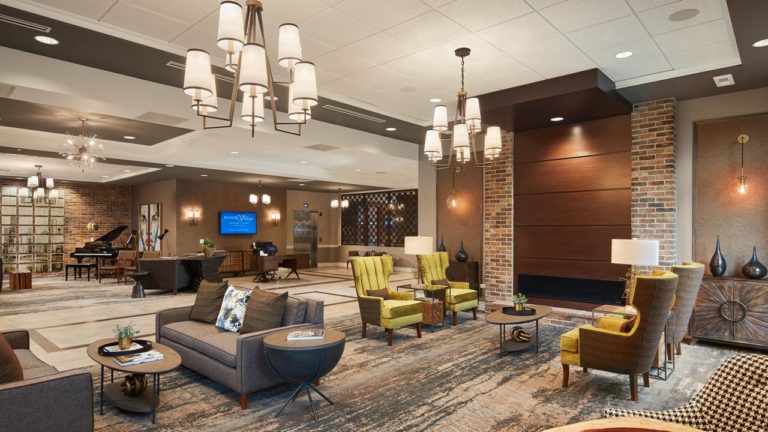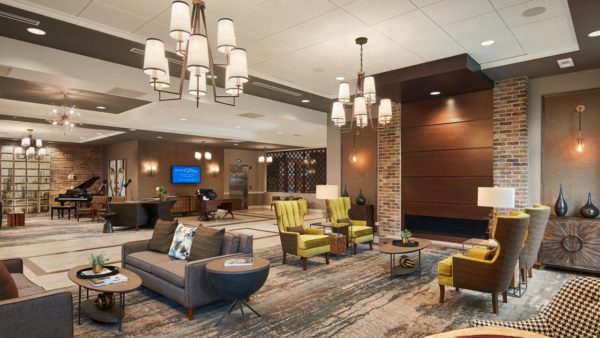 The solution: Lower the ceilings slightly to a still-comfortable height of 8.6 feet. Ground level ceilings in the common areas are more than 10 feet.
Parking was another issue; the original site had none. A 42-foot-cleep hole was dug to accommodate two-and-a-half floors of parking below the building.
The interior also reflects the Chicago neighborhood: "The design relates back to the feel of old Lincoln Park and old Chicago," Hostler says.
Classic globe fixtures in the sports lounge, bistro, and other common areas evoke the city's subway lighting. Memorabilia and decorations in the sports lounge honor beloved Chicago sports franchises including the Cubs and the Bears.
In the great room, a stunning custom sculpture made of reclaimed books digitally printed with images of the city skyline and street grid system bestows a sense of familiarity to any long-time city resident.
Common areas are warm and inviting, with a tasteful use of brick accents that echo the building's exterior. Amenities include a first-floor courtyard, screening room, salon, fitness center, dining venues, and even an Amazon Hub package room.
The design "captures the heart of the city and the charm of the past," says Senior Living by Design judge Holly Osters, of New Perspective.
The community provides a high level of comfort while incorporating sustainable systems including efficient plumbing fixtures, LED lighting, and the latest mechanical and HVAC systems; the building also used recycled materials as much as possible. The project is soon expected to obtain a LEED Silver sustainability certification for new construction.
Recreating a Community Landmark, Brick by Brick and Window by Window
Question: How many bricks does it take to build a seven-story, 120,000-square-foot building that replicates a 1932-vlntage exterior?
Answer: 100,000 red bricks and 150,000 specialty bricks. That's a lot of bricks—and a lot of attention to detail.
Neighbors wanted to keep the landmark Nellie A. Black building because It reflected the Lincoln Park culture and history. But its Interiors were essentially obsolete. So, as It built Its modern, high-functioning, and comfortable new senior living community. Belmont Village Lincoln Park also precisely re-created the exterior.
The old building featured a distinctive brick pattern called Flemish bond, a repeating red and black design. A Chicago company created 150.000 specialty Flemish bond bricks for the building's exterior.
Also replicated and re-made were the distinctive limestone capstones placed above the windows. Two archways from the original building were salvaged and are now a feature In the dining room.
Every detail mattered. An old tunnel running under a busy street once connected the original building to a hospital, since closed. Upgraded with new lighting and sprinklers, the tunnel now connects to the building's underground garage and will be used for deliveries.
Read the complete article in the December issue of Argentum's Senior Living Executive.