Belmont Village Lakeway has opened its doors! Meet the Leadership Team of Our New Austin Community.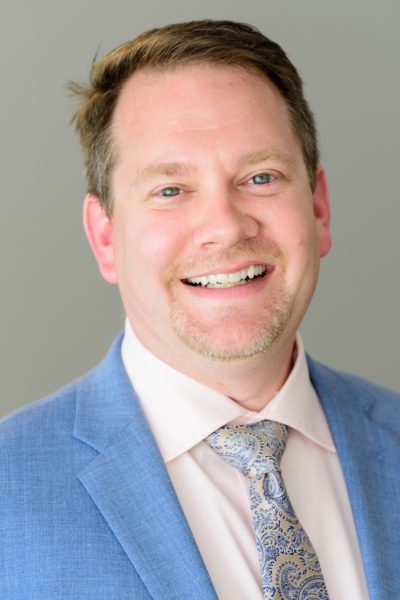 Clint Strickland, Executive Director
As the Executive Director, Clint will supervise the overall management and day-to-day operations of the community. Prior to leading our Lakeway location, Clint served as Executive Director of Belmont Village Buckhead in Atlanta, Georgia for two years.
Clint holds the Certified Directors of Assisted Living credential, awarded by the Senior Living Certification Commission to those who demonstrate a high level of knowledge, ethical fitness, and leadership in the field of assisted living community management.
Before coming to Belmont Village, Clint served as Associate Executive Director at a senior living residence in Sandy Springs, Georgia where he managed a 60-unit Alzheimer's and memory care division. Originally from Mississippi, Clint attended National Louis University in Chicago and earned his degree in Applied Behavioral Science.
He and his wife Jana have been married for 13 years and have a 4-year-old daughter named Adalyn. Jana, who has a bachelor's degree in Nursing, will be working just a block away at Baylor Scott & White Medical Center- Lakeway in the intensive care unit. In his free time, Clint enjoys golfing and spending time with his family.
We are pleased to have Clint as our Executive Director in Lakeway. His strong leadership skills and wealth of experience are sure to make our newest senior living community a great place to live and work.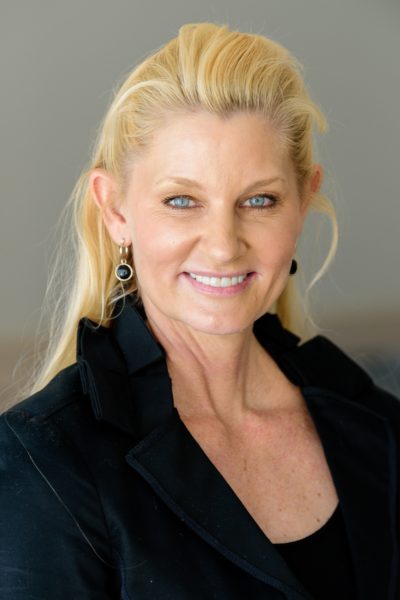 Christy Christine, Community Relations Associate
Christy is an Argentum certified senior living sales counselor and an accomplished senior marketing executive. Christy has nearly three decades of experience in helping seniors and families define their next chapter and find the right care and lifestyle fit for their needs. In her role as Community Relations Associate, Christy will help families and seniors find the perfect environment to grow, prosper, and live their best life.
Christy has been with Belmont Village for 15 years and has helped open three communities, including two near San Diego, California (Belmont Village Sabre Springs and Cardiff by the Sea) and Belmont Village Hunters Creek in Houston, Texas. The Lakeway community will be Christy's fourth and final Belmont Village to open, as she is looking forward to making this scenic Texas Hill Country town her permanent home.
Christy earned her master's degree in Business Administration and Health Care Management from the University of Phoenix. Prior to joining Belmont Village, she served as the Regional Marketing Director for American Retirement Corporation—a company that provides senior living and continuing care retirement communities services.
In her free time, Christy loves to hike and travel internationally. For her next active travel trip, she is planning a mountain hiking trip in Japan. Christy has several pets, including two Chihuahuas and a cat named Venus.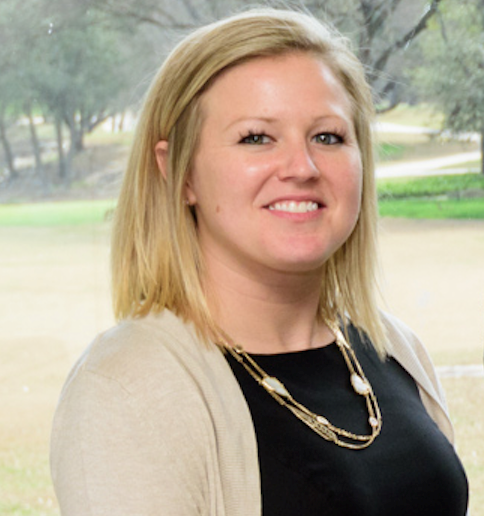 Landria Page, Community Relations Associate
As a Community Relations Associate, Landria focuses on local outreach, and building and maintaining relationships with community leaders and referral sources.
Landria began her career in the senior living field volunteering at an assisted living facility at the age of 13. Originally from Farmington Hills, Michigan, Landria moved to Texas in 2011 where she began working as a Certified Nursing Assistant.
She has extensive experience in the health care and assisted living fields and came to Belmont Village from another Lakeway-area senior living community, where she served as Sales Director. Landria earned her master's degree in Health Administration from Texas State University at San Marcos, as well as her graduate certificate in Long Term Care Administration. In addition, she is a certified assisted living facility administrator and manager.
When Landria isn't working, she enjoys beekeeping, quilting, and spending time with her husband and their two dogs and kitten.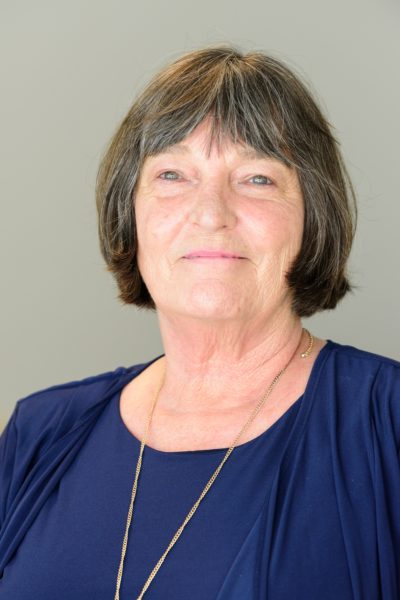 Tina Mahan, Director of Resident Care Services
As the Director of Resident Care Services (DRCS), Tina is responsible for supervision of residential services as they relate to the Resident Life Plan and assessments; initiating wellness and safety awareness programs for residents, family members, and staff; and coordinating and supporting the medication management program.
For the past 18 years, Tina has had the pleasure of working in the Assisted Living environment as the nursing director and training facilitator, coordinating healthcare services to residents while maintaining excellent relationships with families, physicians, and outside vendors. For the past three years, Tina has served as DRCS for our first Austin-area Belmont Village community located in West Lake Hills.
Tina began her career in the hospital setting and her vast experience includes medical-surgical, postoperative care, emergency room, and surgical nursing labor and delivery care. For several years, she also worked in case management for high-risk pregnancies and determined medical necessities for approved hospital stays, specialists, and third party administrator procedures.
Tina graduated from an accredited nursing program from Central Texas College and obtained certifications in dementia care, geriatric long-term care, and assisted living management. She is presently pursuing her bachelor's degree in healthcare management and administration.
Originally from Arkansas, Tina enjoys spending time with family and friends. She has six grandchildren (ages 1-16) who keep her on her toes and active, as well as a small dog named Cleo that's approaching her senior years. In her spare time, Tina also enjoys traveling and various outdoor activities. Her favorite place for camping or leisure lodge vacationing is Petit Jean Mountain, located in one of the two national parks in the Ozarks of Arkansas. In addition, she's a cruise ship enthusiast and has traveled most of the Caribbean Islands.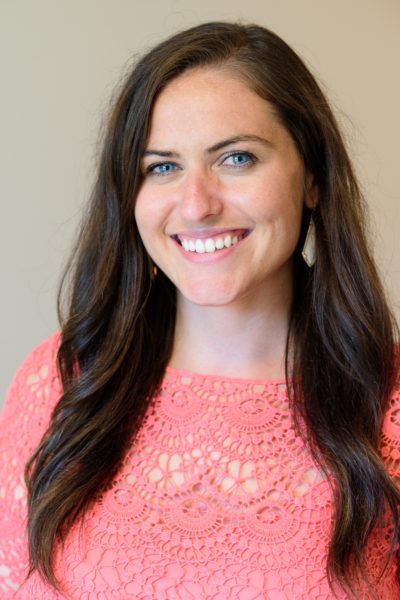 Michalyn Reibly, Memory Program Coordinator
Michalyn Reibly serves as the Memory Program Coordinator (MPC) for Belmont Village Lakeway. As MPC, Michalyn is responsible for coordinating varied activities for our memory care programs that reflect the interests, values, and beliefs of the residents, while providing cognitive stimulation and support.
Michalyn began her career with Belmont Village as an Enrichment Leader at our Turtle Creek community in Dallas. After two years at Turtle Creek, Michalyn entered Belmont Village's MPC training program and spent seven months at the Buffalo Grove community near Chicago learning the ins and outs of being an MPC. Recently, Michalyn was selected as one of Belmont Village's Rising Stars which identifies team members who have demonstrated a strong skill set, talent, and passion for helping seniors live well and places them on an accelerated career trajectory.
Michalyn is passionate about working with seniors. "Every day in dementia care is a new day," said Michalyn. "Each resident has their own fascinating life story, which I love getting to know. I leave work every day with my heart full of love knowing that I make a difference in the residents' lives and they make a difference in mine."
Originally from Flower Mound, Texas. a suburb of the Dallas-Fort Worth area, Michalyn attended the University of North Texas in Denton. During college worked at a retirement community as a server in the dining room and enjoyed her experiences with the seniors so much that she decided to major in Gerontology with a focus in Sociology and Education.
Michalyn enjoys reading, going to concerts and the lake, spending time outdoors, traveling, and hanging out with her family and cat named Lillian in her spare time.
Danielle Boykin, Activity Program Coordinator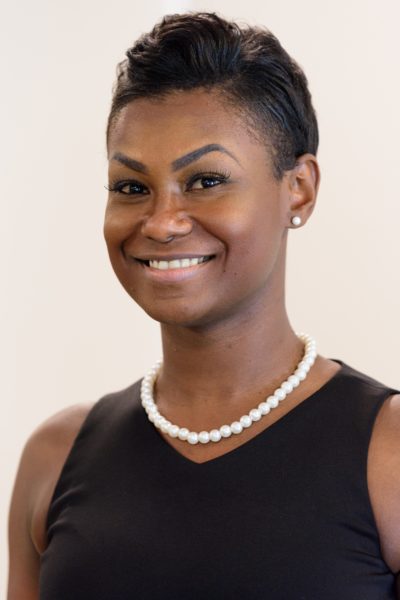 As the Activity Program Coordinator (APC), Danielle is instrumental in the planning and facilitation of a wide variety of life-long learning programs offered to residents in Belmont Village's Assisted Living and Independent Living programs.
Prior to coming to Lakeway, Danielle was part of Belmont Village's Management Associate program, where she learned to function independently in every community position, got exposure to each managerial role and gained an understanding of operations. Her knowledge of the Belmont Village culture and how it translates to resident care have prepared her for leadership within the community. She spent the past year working at the Hunters Creek and West University locations in Houston, where she trained for her current position.
Danielle has a wealth of knowledge about health and wellness. She was a Reformer Pilates Group Exercise Instructor, providing leadership and direction, choreographing daily workout sessions, and teaching and reinforcing movement principles as they apply to Pilates instruction. She also served as a senior wellness consultant, where she advocated for health and wellness in the senior population, provided group exercise instruction and fall prevention education, and offered nutrition and healthy lifestyle recommendations. Danielle has been a fitness blogger and influencer, and has developed original content, writing weekly articles pertaining to health and wellness.
A Houston native, Danielle earned her degree in Kinesiology – Wellness Management from Houston Baptist University. In addition, she has a certification in Reformer I and Movement Principles. Danielle did her senior research project on "Reformer Pilates as a Tool for Fall Prevention in Elderly Women." The research project identified the consequences of falling as a major health care crisis in the aging population. She designed a fitness program using the Pilates Reformer with intentions of yielding improvements in the areas of balance, flexibility, and range of motion in a group of senior women and analyzed and documented the findings. She is currently pursing a master's degree in Gerontology and Aging Services Management.
In her free time, Danielle enjoys outdoor activities, cooking, and spending time with her 10-year-old daughter, who plays competitive volleyball and gymnastics.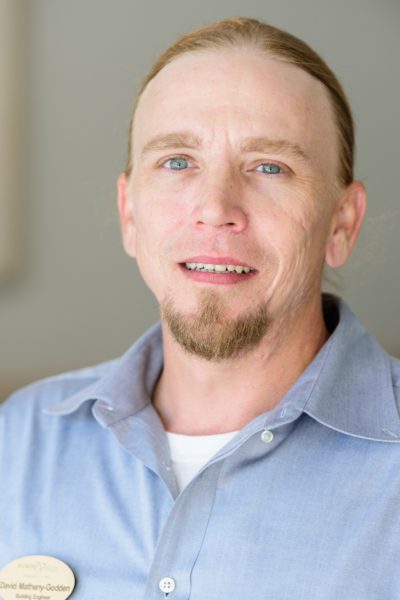 David Godden, Building Engineer
David is responsible for maintaining internal and external facility integrity, managing the preventative maintenance program, maintaining mechanical equipment, repairing structural aspects of facility when needed, performing routine maintenance, and overseeing contractors. He will also perform property and safety inspections, and assist in setting the annual budget for the
Lakeway property.
David transferred from our West University community located in Houston, where he served as the Building Engineer for five years. Prior to working for Belmont Village, he worked as a property caretaker and maintenance technician for a hotel in Alaska. "I've always enjoyed problem solving, fixing things, and helping people," David says. He's lived all over the country, including Florida, Vermont, North Carolina, and California.
When he's not working, David enjoys spending time with Monica, his wife of more than 20 years. His hobbies include fishing, playing with his dog Luey, gardening, and hiking.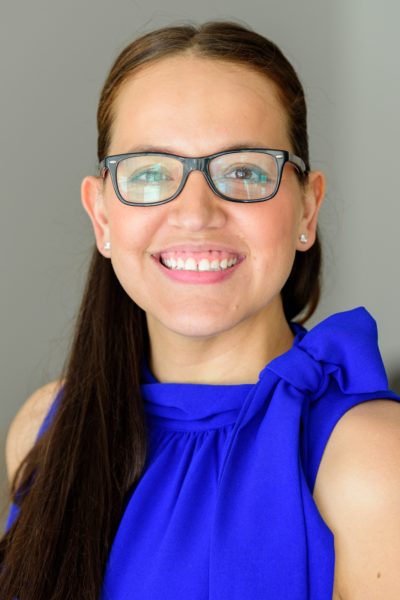 Jessica Bradshaw, Human Resource Generalist
As Human Resources Generalist (HRG), Jessica plays an integral part in employee engagement, retention, and assuring compliance related to state and federal employment regulations. She collaborates with our recruitment and training teams to ensure the successful hiring and onboarding of new employees, and is a vital community resource for our staff, management and regional teams.
Jessica has more than six years of experience as an HRG in a senior living environment and excels at employee relations. She joins the Lakeway team from Belmont Village West Lake Hills, also in the Austin-area, where she served as HRG for four years, learning and mastering Belmont's high operating standards.  We are excited to welcome her to Belmont Village Lakeway, where she is already using her skills to help build a successful team for our newest community.
Born and raised in Fort Collins, Colorado, Jessica earned her bachelor's degree in Business Management from Colorado State University Global where she graduated at the top of her class. She currently lives in Georgetown, Texas with her husband and two beagles, Ladybird and Louie. Jessica's favorite activities include swimming, running, and reading.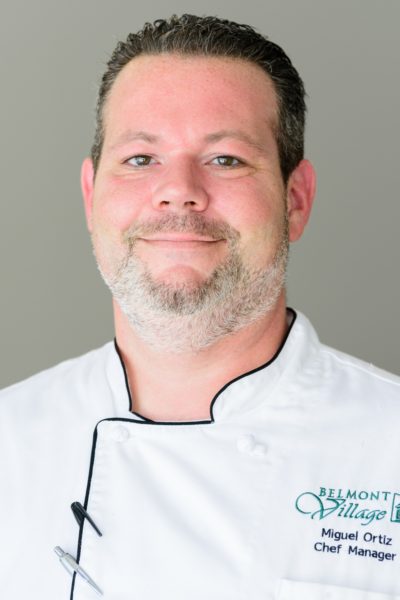 Miguel Ortiz, Chef Manager
Award-winning culinary mastermind Miguel Ortiz serves as the Chef Manager at Belmont Village Senior Living Lakeway. In his role, Miguel coordinates the food service program to provide a variety of nutritional and delicious meals for the community's residents, supervises all kitchen and dining room staff, and performs multi-functional duties related to food preparation and service.
Miguel has 17 years of high volume professional cooking and executive management experience demonstrating leadership qualities and professionalism with a consistent, verifiable record of achievement.
A San Antonio native, Miguel began his culinary career with Marriott hotels. Before moving back to Texas to be closer to his family, he worked in New York City, Cancun, Minneapolis, Houston, Colorado, the Bahamas, and Washington, D.C. at various hotels, resorts, entertainment venues, and golf courses.
Miguel has won numerous workplace awards, culinary accolades, and glowing magazine and newspaper reviews. Among his awards, Miguel received first place for best dish, best presentation, and best creative vision in the "Desert" category for the National Association of Catering Executive's 2014 food competition. In addition, one of his dishes also won first place "Taste of Times Square" in New York City, an outdoor festival presented by The Times Square Alliance's.
While serving as the Opening Chef for the critically acclaimed Tobin Center for Performing Arts in San Antonio, he developed the kitchen, catering, restaurant, and concessions from the ground up and had the pleasure of meeting and cooking for numerous celebrities including Paul McCartney, Jason Mraz, Carlos Santana and Alton Brown.
Miguel began working with Belmont Village this year to broaden his culinary horizons and says he is excited to create delicious dishes for the Lakeway community's residents and work in such a wonderful environment.
In his spare time, Miguel enjoys camping, traveling, hunting, fishing, and spending time with his wife Becky and their daughter Lola.
Gynelle Cherry, Dining Room Manager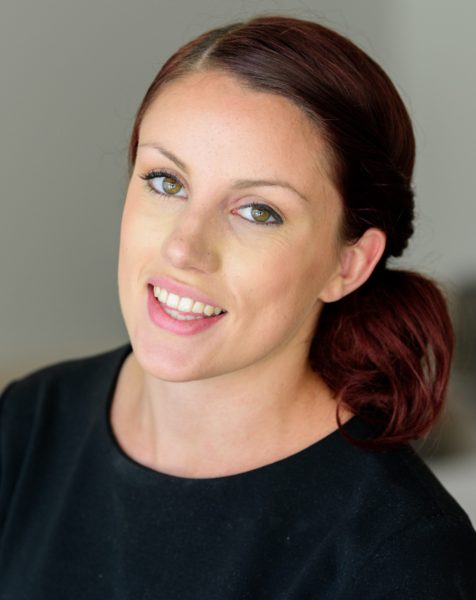 Meet Gynelle Cherry, Belmont Village Senior Living Lakeway's Dining Room Manager (DRM). Gynelle first started her career in the field of nursing, but found her true calling in the kitchen—making her the perfect fit for this integral position.
As DRM, Gynelle is responsible for the total dining room operation including hiring, supervising, and training dining room staff and PALs in proper techniques for timely service of food to residents. This active dining room position assists in service when needed as well, and she also supervises and performs multifunctional duties related to food service and cleanup.
Gynelle is a Certified Dietary Manager and a Certified Food Protection Food Professional with experience in care planning, managing clinical and culinary staff, nutrition screenings, kitchen inspections, and Quality Assurance and Performance Improvement compliance. She has more than five years of experience in long-term care settings and more than three years of experience in nutritional services in long-term care and rehabilitation centers.
Prior to joining the Belmont Village team, Gynelle worked as the Healthcare Dining Room Manager at an Austin-area Continuing Care Retirement Community (CCRC) and before that as the Dietary Manager at a skilled nursing and rehabilitation center for a year. She also served as a Certified Nursing Assistant and Intermittent Dietary Manager at a senior living and healthcare facility for two years.
Gynelle graduated in 2012 from the University of North Dakota as a Certified Food Protection Professional. In 2016, she earned her Certified Nursing Aide and Graduate Vocational Nurse credentials from Texas State Technical College-West Texas. She also earned her Certified Dietary Manager accreditation from the Association of Nutrition and Foodservice Professionals (ANFP)—the national non-profit association with more than 14,000 professionals across the U.S. who are dedicated to the practice of providing optimum nutritional care through food service management.
Gynelle was born in Las Vegas, Nevada and raised in Sweetwater, Texas. She enjoys kayaking, hiking, and collecting artifacts with her family. She spends most of her time outside of work with her 8-year-old son and long-time boyfriend.