Players who dip their toes in international waters are learning that a winning approach hinges on local market expertise.
While the U.S. senior living market may be overheating, the best opportunities could lie overseas. Developers and investors understand that the world is aging quickly, and many countries don't have a viable senior living product.
New projects by U.S. companies are opening in China, India, the United Kingdom and Mexico. The projects are similar in many respects to their U.S. counterparts, but they're also quite different. Each puts its own local spin on senior living.
This isn't the first time American companies have dabbled overseas. The healthcare REITs were quite active overseas several years ago. Welltower and Ventas still have properties in the U.K.
Foreign activity seems to come in fits and starts, though, a testament to the difficulty of exporting an American product to different cultures. Sunrise Senior Living sold eight of its nine assisted living facilities in Germany in 2010. The company says it does not currently own any buildings or have operations in Germany.
Bienvenido a Mexico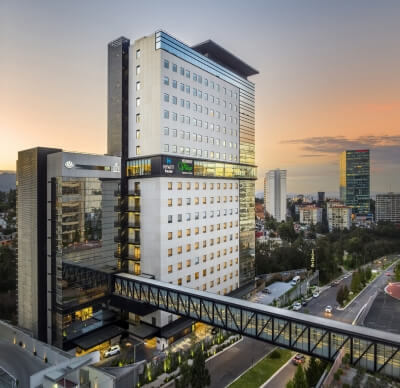 Belmont Village Senior Living is bringing U.S.-style senior living to Mexico. The company opened a high-rise project in Mexico City last summer. The 135-unit project, Belmont Village Santa Fe, is located in the Santa Fe district and is part of a mixed-use development that includes retail and a restaurant on the ground floor.
Belmont occupies 11 stories of the tower. A Hyatt Hotel sits atop the Belmont portion of the building. It is adjacent to a medical office tower and connected by a sky bridge to the ABC Medical Center, one of the best hospitals in Mexico City.
The project took about three years to develop.
"We made a big investment to create an operating company to bring this building on line," says Patricia Will, founder and CEO of Belmont Village, Houston. "There was virtually no senior living in a city of 21 million people."
Belmont has plans underway for two more projects in Mexico City. The company would not have made a commitment for only one project in the city, says Will, comparing it to the strategy in the U.S. where operators tend to concentrate their properties in certain markets. For example, Belmont currently has its seventh building underway in the Los Angeles area.
Will was comfortable undertaking development in Mexico since she is fluent in Spanish. Also, the plane ride from Belmont's headquarters in Houston to Mexico City is 1 hour and 40 minutes, a manageable distance.
Belmont Village Santa Fe is attracting plenty of media attention that helps educate the market about senior care, says Will. Her team even had to decide what to call assisted living and memory care since the Spanish words don't really describe the services. They finally decided to use the English words.
Managers are brought to the U.S. for training. Belmont selected some of its top Spanish-speaking caregivers from its Los Angeles properties to travel to Mexico City to train the employees.
Monthly rents at the Belmont Village building in Mexico City average approximately $4,000 to $5,000. The building is about 30 percent leased, and Will expects the lease-up process to take longer than it would in the U.S. because assisted living is a new product in Mexico. The lease-up period in the U.S. is typically 18 to 36 months.
"A lot of the groundwork is getting the first wave of residents into the building and getting their families comfortable with the concept," says Will.
The pilot project has gone well, says Will. She's even gotten some fan mail. After the September earthquake, Belmont Village Santa Fe received messages from family members grateful that their loved ones had remained safe because the building performed well and was not impacted.
"They were happy mom was with us."
Click here to view the full story by Senior Housing Business.