Belmont Village Westwood Executive Director James Arp was recognized with the 2018 Community Leadership Award at the Argentum Senior Living Conference in San Diego on Tuesday, May 15. Argentum is the leading national association exclusively dedicated to supporting companies operating professionally managed, resident-centered senior living communities and the older adults and families they serve.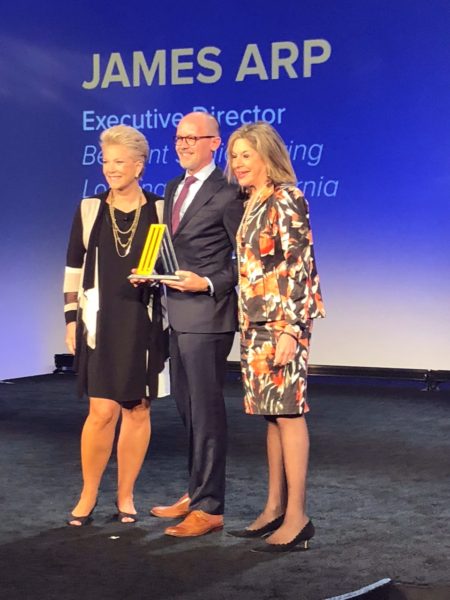 The Community Leadership Award is given to one individual every year who displays exemplary leadership in senior living community management. Through his passion for connecting with residents, establishing community outreach programs, and supporting professional development for employees, James has created an exceptional community environment that's best in class.
"James is dedicated to quality and consistency in providing care and service to our residents and families," said Patricia Will, founder and CEO of Belmont Village Senior Living. "He is known for doing whatever is necessary to ensure that his community is operating at the highest possible level, whether that means rolling up his sleeves to pitch in or leading by example and providing his team with the tools to be successful. He has grown with the company and continues to act as a mentor for our employees. It is a privilege and honor to have James as part of our Belmont Village family."
Congratulations to James Arp! We are grateful to have such a dedicated and passionate employee leading our Belmont Village Westwood community, and we're honored that you have chosen to build your career with us.