Caring for older adults is a big responsibility, whether you're a family member or a trained professional. Empathy, compassion and understanding are the keys to providing the best care, and one of the most effective ways to gain that perspective is by putting yourself in the shoes of a senior.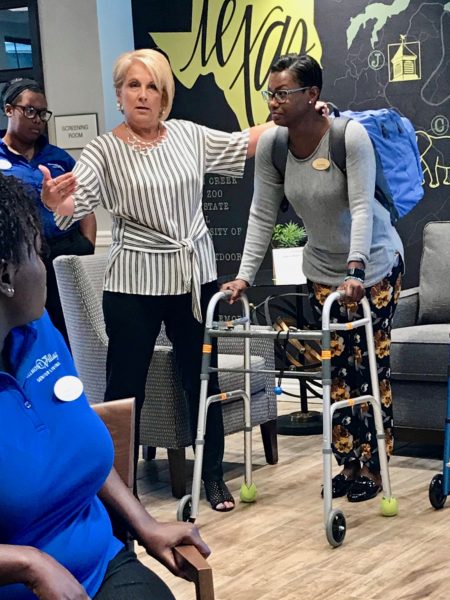 At Belmont Village Senior Living, our training team has developed a customized exercise called "The Aging Game" to do just that for our staff members who work directly with our residents. It's a part of the 40-plus hours of training they receive during their on-boarding, along with ongoing training throughout their employment. The Aging Game begins with a discussion of common myths of aging. It's a reminder that, while there are some common issues, everyone does not age in the same way and it's important to remain in the moment with each resident to learn his or her needs. The exercise then uses specialized devices to help employees experience what it feels like to inhabit the body and mind of an older adult who may be experiencing some of the more common conditions of aging.
"Each of our staff members plays an essential role in helping our residents have their best possible experience at Belmont Village," said Patricia Will, Belmont Village Founder and CEO. "Our goal is to build dedicated teams who love coming to work every day and who will serve our residents with knowledge, compassion and respect. This training is an important step in that process."
Employees at our newest community, Belmont Village Lakeway, recently  participated in the Aging Game, during which they experienced a range of conditions that are sometimes found in aging, from hearing impairment and dexterity limitations to balance disorders and visual impairment. The team started with a group exercise that demonstrated hearing impairment then broke into small groups and rotated through a variety of stations, each with its own challenge. Joyce Mahoney, Belmont Village's regional director of memory care and programming, provided on-site instruction and helped team members fully understand and grasp the significance of each of the exercises.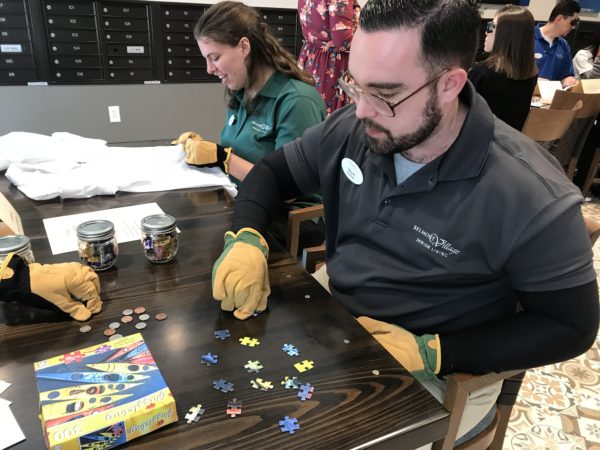 Understanding Dexterity Limitations
Dexterity limitations happen when arm and hand function decline with age due to sensorimotor deficiencies, including decreased motor coordination, reduced manual dexterity, and weakened grip strength. To demonstrate that condition, team members put on a large, thick pair of gloves and attempted to complete a number of seemingly easy tasks, from opening candy wrappers, to picking up coins, to buttoning a shirt and opening jars. Participants quickly realized that each and every task presented a new challenge, which helped them to develop a deeper understanding of what some residents may be dealing with as they go about their days.
Balance and Gait Disorders
About 25% of older adults ages 70-74 and 60% of older adults ages 80-84 have balance and gait disorders, which are the most common causes of falls in older adults. To help our staff understand just how difficult it can be for a resident with these disorders to get around, they were asked to use a walker while carrying a 40-pound backpack with bungee cord around their ankles. They had to stand up, walk down the hallway, open a door, walk back through the hallway and door, and sit down, to gain new insight into a typical day for residents with these issues.
Visual Impairments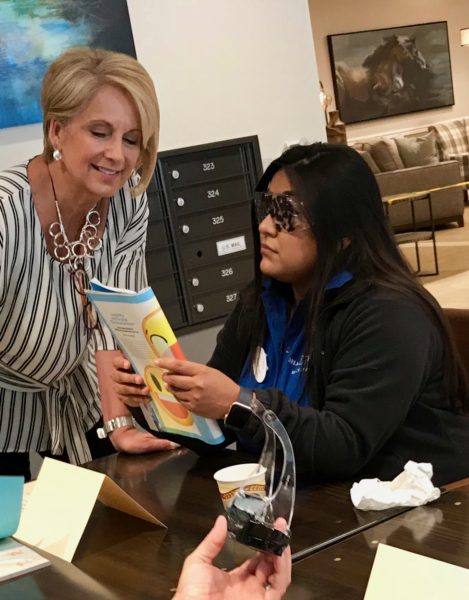 A particularly revelatory station in the Aging Game exercise focuses on specific visual impairments. Each team member experiences four types of impairment by using different pairs of glasses that have been modified to simulate glaucoma, macular degeneration, cataracts, and diabetic retinopathy— the most common types of visual impairments found in people ages 65 and older. Understanding these visual nuances will help them to better support the unique challenges presented by each impairment.
Role Playing
In the final Aging Game exercise, employees participate in role playing to understand how residents might feel when their care needs are not fully recognized or adequately attended to.  They are asked to take turns acting out giving support to a resident while distracted, without taking the resident's needs or feelings into account. Each employee takes a turn at playing the resident in this scenario to gain a deeper understanding of the importance of focusing on the individual. We also want them to be attentive to resident abilities and build on them, and to learn how to better identify what a particular resident may need. That requires actively engaging with the resident, listening carefully and learning to recognize cues.
"These exercises for employees are real life restrictions for many of our residents. Not only are our employees walking a mile in our residents' shoes, they're also reading a book with their eyes, getting dressed with their hands, and completing everyday tasks with their bodies and minds," says Mahoney. "Many of our employees tell us they have a new level of understanding and respect for our residents after completing the program. At the end of the day, that's what it's all about."