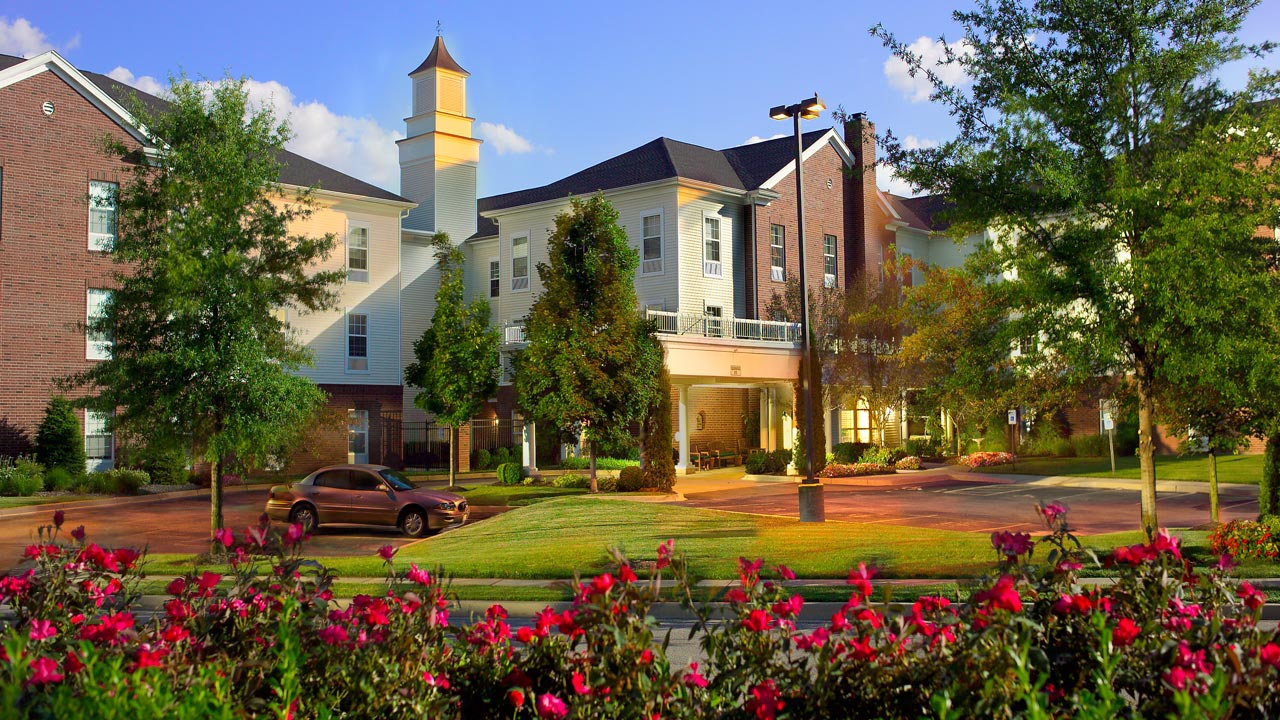 BELMONT VILLAGE SENIOR LIVING

ST. MATTHEWS
Belmont Village St. Matthews is home to the perfect blend of comfort, personalized care and active living. Our community offers personal care and memory care in Louisville. Nestled in the heart of the St. Matthews area, our beautifully landscaped senior living community is surrounded by premier dining, shopping and entertainment along with numerous places of worship. We're just a short drive from downtown Louisville and well-respected hospitals including Baptist Health and Norton Suburban.
Every day at Belmont Village, connections are made, passions are pursued and residents rest easy knowing they're at home. Here, you're surrounded by a dedicated team who provides a wide spectrum of care, including our award-winning Circle of Friends program for Mild Cognitive Impairment (MCI). Every Belmont Village community is licensed to the highest standard—this means couples with different care needs can stay together. Like always. And as your needs change, we can change with you, offering the right level of care for where you are. Our experienced management team and specially trained staff are here to provide just the right balance of care and support to suit any lifestyle.
Whether you're searching for an award-winning memory care program or senior living in Louisville, Kentucky, we invite you to visit our community. Once here, you'll discover the abundance of amenities, including an array of elegantly designed common areas for gatherings and a technology center to keep residents and their families virtually connected.
Senior Living Hospitality and Amenities
Chef-prepared dining with 24 daily choices
Bistro with daily refreshments
Professionally supervised fitness center
Fully-equipped salon with services for men and women
Free scheduled transportation daily
Social and enrichment activities
Wi-Fi throughout the building
Studio and 1-bedroom residence plans
Pet friendly community
Housekeeping services
Senior Living Programs and Support
Licensed nurse and well-trained staff on-site 24/7
Medication management
Assistance with activities of daily living
Diabetes Center of Excellence
Physical, speech and occupational therapy services on-site
Short-term respite and transitional stays
No buy-in or long-term contract required
THE RIGHT LEVEL OF CARE
Much like our residents, every Belmont Village community is different. But what they all share is the sense of community. We offer a personalized level of care for every resident, incorporating a professionally managed fitness center with on-site therapy services, a licensed nurse and well-trained staff on-site 24/7, innovative, award-winning memory enrichment programs and a vibrant social activity calendar. You'll enjoy restaurant-style dining and chef-prepared meals with new friends at Josephine's Kitchen, get pampered in our full-service salon, and schedule complimentary transportation for personal excursions and appointments with our concierge.
BEST IN CLASS SENIOR LIVING IN LOUISVILLE, KY
For more than 20 years, Belmont Village has offered our highest standard of senior living programs, hospitality and care in the Louisville area. There are several aspects that separate Belmont Village from other senior living communities in Kentucky, but if you ask our residents or their families, they cite our range of enrichment programs, high standard of care and service, award-winning memory care program, premier hospitality and our focus on helping residents live an engaging, purposeful life. Explore other Belmont Village Senior Living Communities.
Personal Care License 100891
Thank you so much your commitment and for all you do to care for and protect the residents at Belmont Village. In particular, I want to express gratitude for everything you do for my Father. My family knows how difficult this time is, but we feel secure in knowing that you are keeping him and everyone else safe. Your hard work and vigilance make the difference in their lives. At this time, when we cannot visit, we are comforted in knowing that you are checking in with our Dad, and being there for his needs and well being. As you know, he is a pretty amazing person with a positive attitude about all of this. I know how grateful he is as well.
Ann R., Belmont Village St. Matthews
While [my dad] could still take care of himself he knew it was better to be in a place where help would always be close by. And from time to time he has had to call on that help. And when he has, that help has always been there and quick to respond. But as much as that, it's the ordinary day-to-day things that Dad frequently points out to us. He always talks about the cheerful, respectful attitudes of the PALS, the dining room staff…everyone. And while I can't acknowledge everyone I would like to particularly thank Ted for always being receptive to Dad's observations and "suggestions" and to Thelma who he says always keeps his room spic and span. And who, as I know from experience, is always there to greet him (and us) with a warm, caring smile.
Paul R., Belmont Village St. Matthews
We wanted to THANK YOU for taking such good care of all of the residents. We truly appreciate your willingness to come to work and provide care and support to them. Especially in these times, as we're all experiencing so many emotions. Since we can't be there to visit them, or take them out to lunch or dinner, we SO appreciate all that you are doing to help them!!
Mark M., Belmont Village St. Matthews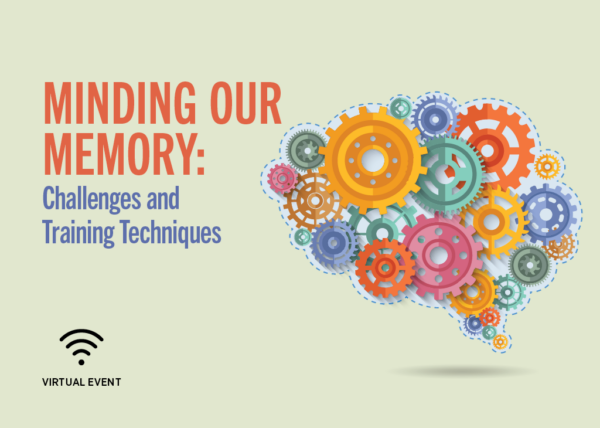 Minding Our Memory: Challenges and Training Techniques
Thursday ∙ September 23, 2021 • 10 AM PT  |  12 PM CT  |  1 PM ET
THURSDAY ∙ SEPTEMBER 23, 2021
10 AM PT  |  12 PM CT  |  1 PM ET
SPEAKER: Linda Ercoli, PhD
Dr. Ercoli is a professor of psychiatry, director of geriatric psychology and interim director of the Longevity Center at UCLA. She is a renowned educator, clinician, and investigator and has developed memory training curricula that are available throughout the US and abroad. Her academic interests range from early detection and treatment of age-related memory loss to caregiver stress.
MODERATOR: Patricia Will, Founder & CEO of Belmont Village Senior Living
Patricia Will co-founded Belmont Village in 1997, and today the company is known for built-to-purpose developments, best in class hospitality, first-rate care, and unique partnerships with top universities and institutions. Belmont Village serves thousands of residents across 32 communities in eight states and Mexico City. An inductee of the ASHA's Senior Living Hall of Fame, she is a leading expert on senior housing and has pioneered care for seniors with memory loss and dementia.
Mild memory challenges are a normal part of aging. Forgetting a name, word or an item at the store happens to just about everyone. Memory training techniques can help offset these mild challenges. In this webinar, Linda Ercoli, PhD, a geriatric psychologist and expert in aging, will talk about memory changes in normal aging, cognitive enhancement techniques to compensate for these age-related memory changes, and the effects of cognitive training on the human brain.
For more information, contact Lauren Hollasch at lhollasch@belmontvillage.com or 773-327-2200.
Belmont Village St. Matthews is located at 4600 Bowling Blvd, Louisville, Kentucky.